Production Times
Expedited Production
Expedite charges are required when the 'need by' date is not met by our standard proof, production and shipping times. The customer may expedite one or more of these processes to meet their 'need by' date.
If expedited production charges are required to meet the 'need by' date, the customer will be contacted before production begins. If any difficulties arise during the expedited production process, Personalized Ribbons will make every attempt to contact the customer. The customer will be presented with two options, if Personalized Ribbons is unable to meet the 'need by' date:
Customer can decline order: no fees will be charged if Personalized Ribbons is advised of the cancellation before the order ships. Otherwise, the order will be completed, shipped and the customer will be responsible for the order.
Customer agrees to the new production time and the order will be completed and shipped.
Personalized Ribbons will contact the customer if any shipping problems arise, but production may continue, even if we are unable to make contact.
Stock Ribbons
Orders of less than 250 ribbons normally ship within 24 hours. Add an additional day of production time for each additional 250 ribbons.
Full Color Ribbons
Standard production time is 7 days after we receive a signed proof. Production times may need to be increased due to the quantity or complexity of your order and the limits of our production capacity. During the months of May and June we may need up to 5 weeks to produce your orders. ORDER EARLY. Expedited production options may be available to speed the production and shipping process. If any expediting of your order is required, you will be contacted by a customer service representative.
Custom Imprinted Ribbons
Expedited production may not always be available - you will be contacted by customer service if we will not be able to meet your expedite request. EXPEDITED FEES: $50.00
Same Day Production is NOT available after 11 AM Mountain Time.
| | Standard | Expedited |
| --- | --- | --- |
| Imprinted Badge Ribbons | 3 days | 2 days |
| 10 or more titles | 4 days | 3 days |
| More than 2500 ribbons | 4 days | 3 days |
Shipping Options
General
All packages will be shipped via UPS (with the exception of Military address - USPS Priority Mail). The following options are not available:
UPS with shipping charged to customer or third party account.
Federal Express or other carriers.
No product shipments to PO Boxes.
Personalized Ribbons is located in Salt Lake City, Utah. Most products will be shipped from this location. A few items may be shipped from other locations and the delivery time may need to be adjusted.
Be sure to select the appropriate shipping method (view available services) to insure that your products arrives on time.
If next day shipping is requested, the order must be submitted by 11 a.m. Mountain Time and confirmed by calling the customer service department at 1-866-935-5350. Shipping is always dependent upon product availability. Shipping times for custom orders are figured from the time production of the product(s) is completed – production charts are available on each products order page.
When both custom and stock items are ordered, all products will be shipped together using the selected shipping method. (See the charts on the top of this page to determine the required production times)
Personalized Ribbons is not responsible for and assumes no liability for missed delivery dates caused by a failure on the part of the shipping company.
UPS Shipping
UPS is the recommended carrier for Personalized Ribbons. By using UPS, all labels and shipping information are printed directly from the computer address associated with the order. UPS is notified via a direct link over the Internet and the customer will receive a confirmation email with a tracking number. Delivery failures due to circumstances outside of UPS's direct control (weather, traffic, receivers office closed, no one available to sign, etc.) are not guaranteed.
If a problem should occur Personalized Ribbons will do everything possible to remedy the problem. We have our own UPS account executive who may be able to correct the shipping method or address while in route. If necessary we may even redo an order (if possible) so that it can be received when needed.
USPS Shipping
We do not recommend USPS. Arrival times for these packages are unpredictable, and tracking services are not offered for priority mail. If packages are not received we will replace the contents after waiting 30 days (USPS policy) to allow for return of the original shipment. For packages sent via the Postal Service to a military address, replacement orders will be at the customers expense. Insurance will be required on all packages sent by USPS (insurance is not available when shipping to some countries, the customer assumes all liability if this is the case).
Shipping Times
UPS Next Day Air Early A.M.
Next business day delivery by 8:00 AM to major cities in the 48 contiguous states.
Delivery by 8:30 or 9:00 AM to most other U.S. cities, including Anchorage, Alaska.
Delivery by 10:00 AM to additional locations.
UPS Next Day Air
Next business day delivery by 10:30 AM, 12:00 noon, or end of day, depending on destination.
UPS Next Day Air Saver
Commercial Destinations: Next business day delivery by 3:00 or 4:30 PM where UPS Next Day Air® delivery is committed by 10:30 AM or 12:00 noon, respectively.
Residential Destinations: Next business day delivery by end of day.
UPS 2nd Day Air A.M.
Delivery on the second business day by 10:30 AM or 12:00 noon to most commercial destinations.
UPS 2nd Day Air
Delivery by the end of the second business day. Some locations in Alaska and Hawaii require additional transit time.
UPS 3 Day Select
Delivery by the end of the third business day.
UPS Ground
Day-definite delivery typically in one to five days. See map below.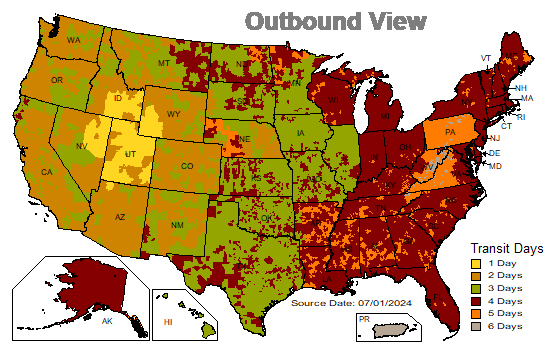 Shipping Policies
Late Shipments
If an expedited shipment fails to arrive when scheduled, please contact Personalized Ribbons. If a notice is received and acknowledged by Personalized Ribbons within ten days of the missed or late delivery time, excess shipping fees may be refunded. Fees will not be refunded for delays caused by the customer (IE, no one is available to receive or sign for the package, an improper or incomplete address, etc.) or for delivery failures due to circumstances outside of the shipping services' direct control (IE, inclement weather or traffic).
Production Delays
If an unexpected problem is discovered during the production of your order, you will be contacted immediately. If a customer is not available, all production will cease until contact is made – please have someone available who can respond in a timely manner. This delay in production may cause a delay in the shipment of your order.
If you need your product by a specific date, please notify us at the time the order is placed.
Unless we have been notified of a specific date in advance (or an expedited production or shipping method has been chosen), shipping for a delayed order will use the same method chosen when the order was placed. If an order with a 'need by' date, expedited production and/or expedited shipping is delayed because of a production problem, we will attempt at our cost, to ship your product so that it arrives by the scheduled date.
If a product can not be shipped to arrive by the specified date, the customer will be notified and production will stop until the customer verifies that they are willing to accept the late delivery. If the customer is not available for contact or does not respond immediately, they may be responsible for a portion of the invoiced fees.
Cancelled Orders
If a customer chooses to cancel an order once production has begun they will be responsible for a portion of the invoiced fees, based on the percentage of the order completed. Once the order ships, the customer is responsible for the entire order.
Lost Shipments
Personalized Ribbons uses third party services for shipping and is not responsible for their failures. However, insured shipments will be replaced by Personalized Ribbons as soon as the shipping company declares the package lost. Notify Personalized Ribbons of any lost packages immediately, we will work with you to find an equitable solution.