So, you already have the event planned out? Did you get badge holders or name tags for your staff, but still need a way to make sure attendees know who they can go to for assistance during the event? Try out these handy identification tools today!

Badge Ribbons are so much more than just a piece of satin ribbon used as a designation for an usher or sponsor. Yes, titles are important, but these ribbons are so much more useful. Don't settle for only using titles; make custom ribbons with nearly any text and graphics. From full-color to imprinted text, badge ribbons are guaranteed to make your life easier, especially when it comes to events.
Here are four ways to use badge ribbons at your next event.
1) Stock and Custom Titles
While a name tag identifies the person, adding a little flair will make them stand out. Custom imprinted ribbons are designed to hang from the back of a name tag or name badge. Simply attach a ribbon to the name tag or badge to add a descriptive title or honor for the attendee.
Choose from an abundance of stock titles or create a new one. Identify sponsors, presenters or speakers with different colored ribbons. These ribbons can also be used to differentiate guests and organizations from staff or volunteers. If there are prominent members or VIPs at the event, set them apart with a ribbon that reflects their importance or position.
2) Advertisements and Promotional Materials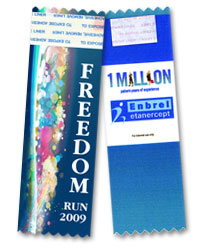 Ribbons don't just have to be for a name tag. Make your event the hype of the year with badge ribbons. Get the word out using full-color ribbons with your event name, logo or other graphic. Leave them at grocery stores, libraries and even hand them out in places near your chosen venue. The masses are sure to get excited to come to your event with such a color advertisement.
Not only do badge ribbons help as a valuable networking tool, but they are perfect for promotions. Customize each ribbon with your logo, add any sales items or text informing of the promotion. Then, place them all around your business or store. Make sure to hand them out before the sale or promotion starts to get the word out properly. Then, watch the masses flock to your business!
3) Inspirational Quotes and Sayings
Ribbons can be customized to express any desired effect. So, add uplifting imprinted text to any color of ribbon you want. These can be added to name tags to help those around your event feel more welcome and invited. And, don't just let your employees or staff wear them. Give them to attendees to wear as well.
And, while uplifting is always nice, don't forget to make your guests smile. Add silly titles or statements to make attendees laugh and get more involved in your event. These sayings can even be directions to a game they can play while at your event. Get creative in your text and graphics with these fun event tools.
4) Keepsakes and Awards

Ribbons are the perfect way to say thank you for coming. They also are great for recognizing someone's help with your event. Or, give them as awards for a game during your event. In any use, they are a growing trend to use wherever and whenever possible.
These event ribbons don't have to remain at professional functions. Think of all that you can do with them at private and personal events as well. From parties to weddings, every event will benefit from the use of these incredible badge ribbons.
So, use badge ribbons at any event. Conventions, meetings and conferences are a few of the places where you can find badge ribbons. But have you ever thought of using them for fundraisers, fancy parties and other such events? Their uses are truly endless!