From rosette ribbons to badge ribbons, we have just what you need to help recognize colleagues, family and friends in their success. When you recognize and acknowledge success in anyone, it has incredible outcomes, especially when you use personalized ribbons.
Acknowledge Success and Achievements

Even in a fun work environment, employees want to feel appreciated for their hard work. Thank each team member for their contribution by customizing badge ribbons that highlight their achievements. From perfect attendance to closing a big sale, recognizing these accomplishments increases company loyalty. It also encourages team members to congratulate each other on their accomplishments. By creating a work culture where everyone feels valued, your employees will love coming to work. You will also attract new talent as word of your positive company culture spreads.
Custom Ribbons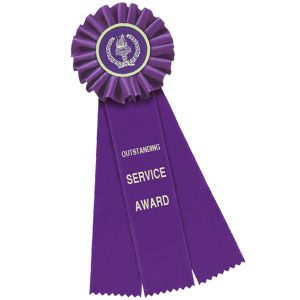 Using custom rosette ribbons to acknowledge success will help anyone feel special. Employees, and really anyone, will know how much you care when you put thought into a prize ribbon just for them. And, you can customize these ribbons to say just about anything!
Start by picking how detailed you want the ribbon to be by choosing streamer count and length. Then choose how big you want the rosette part. Then you can work out which colors you want for your ribbon. Once you have chosen these styles, add any text and graphics or icons you need for these fun and fabulous ribbons.
Stock Ribbons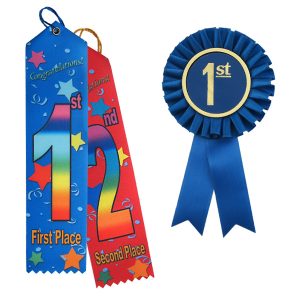 While these prize ribbons are pre-designed, they do not take away from any distinguished honors or successes. So, save some time and order a stock ribbon to help you acknowledge success around your office or team today.
Choose from a variety (rosette and flat) of ribbons to give out the recognition someone deserves for a job well done. From simple stock rosettes that simply say 1st Place to flat prize ribbons with bold colors and fantastic messages, all of these ribbons are just as glorious as custom ones.
Recognizing Achievement and Celebrating Excellence

Not only do people like receiving recognition for their achievements, but they deserve it as well. When you recognize achievement, several things happen. One, they are provided with a vital boost to continue in their excellence. Two, they gain happiness for their job well done. And, three, the recognition spills to other people. It's almost like a ripple effect that goes beyond just the person receiving the recognition. After all, one good turn deserves another, right?

So, how can you learn to make achievements work for you no matter where you work (education, business and organizations)? Driving excellence in your organization will help to boost employee engagement and clientele satisfaction.
Immediately Acknowledge Success
By recognizing achievement as soon as you see it, you help to encourage everyone around you. Whether that's in an office or a store, these celebrations of success will strengthen your team. They will also help your colleagues perform better while doing their jobs. And, it will help you to see how other's success will help your success.
Learn even more about Recognizing Achievement and Celebrating Excellence. After all, the quality of the reward will affect the quality of the return work. So make sure your awards are high-quality!