From getting branding exposure to helping with a fundraiser and promoting products and services, giving back to the community is hugely beneficial for our business. But, it isn't about what we get in return for our efforts. It's all about who we are helping.
Building trust, helping those in need and understanding our community are where we try to put our focus. We invest in our community by donating our time and products. So, ring a bell and give a hearty hello to our latest donation recipient: Ladies Leukemia League, Inc. and their annual Fête de Noël fundraiser.
Ladies Leukemia League, Inc.
The Ladies Leukemia League, Inc. is an organization of 225 women who have dedicated themselves to the purpose of raising funds for leukemia research. Proceeds from early fundraising efforts were donated to the new leukemia ward at Charity Hospital in New Orleans and also to local leukemia research efforts. This later expanded to include leukemia research efforts in the Gulf South region, which includes Louisiana, Mississippi and Texas.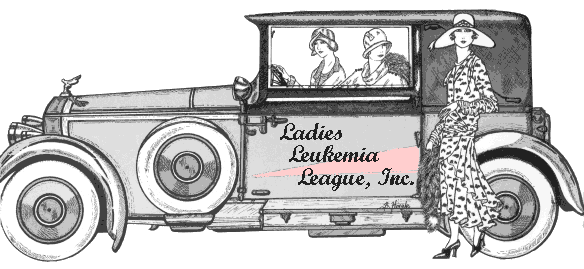 (Since the society's inception in 1969 they) have raised over $3.6 million in "pilot" or "seed" money for research scientists working in leukemia and lymphoma research, or related fields. The organization was incorporated in 1971 and became known as the Ladies Leukemia League, Inc. (LLL).
LLL, Inc. has gained the reputation of being an organization of dedicated women volunteers making a genuine and meaningful contribution to finding a cure for leukemia. The annual luncheon and fashion show, always enhanced by various drawings for special prizes, has had recent attendance of close to 1100 people; it has grown bigger and better with age.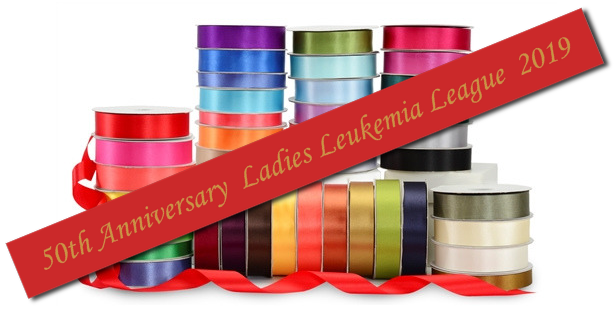 DYNA Satin Ribbon: Continuous Printing
DYNA Satin Ribbon has a medium soft feel and a slight sheen that makes it easier to work with than regular acetate ribbon. And, as it is 100% polyester, it won't fray or tear. Customize this beautiful ribbon choice with a logo and text repeated along the entire length of the ribbon to make it the perfect choice for finishing baskets, boxes, bags and floral arrangements.
Melba Bruce, Co-President of Ladies Leukemia League, Inc., said, "The ribbon donation will help defray the cost of LLL's Fête de Noël, the premier fundraiser for the holiday season. (We are using it) to support bells distributed to guests, Wednesday, December 11, 2019, at the fundraiser."
LLL ordered red ribbon with a gold imprint with "50th Anniversary Ladies Leukemia League 2019" printed on the ribbon to celebrate the 50th year since the inception of LLL.
Recent Media Coverage Featuring the Ladies Leukemia League, Inc. Fundraiser
Nell Nolan: Ladies Leukemia League
"Believe" was the theme for the 2018 annual Fête de Noël of the Ladies Leukemia League Inc. (The event included) a luncheon of salad, roasted loin of pork and holiday doberge cake; for-purchase centerpieces; invitation and program artwork by Chrissy Gregg Baynham; a silent auction; special raffles; and door prizes added more accents. Profit from the always popular luncheon will run more than $130,000 for LLL's challenge against leukemia. Believe!
Ladies Leukemia League Fete de Noel Generates $130,000 for Research
Members of the Ladies Leukemia League, Inc. know how party for a cause, and this was the 49th year the LLL's Fête de Noël served as a festive start to the Christmas season. Almost 1,000 attendees helped to raise $130,000 that will go toward leukemia research.
Ladies Leukemia League Installs Officers
Melba Bruce and Jacquelyn Milan were recently installed as co-presidents of the Ladies Leukemia League. The Fête de Noël, the group's largest fundraiser, will be held in December.