Coller Industries enjoys spoiling their employees!
And we all love accepting it, especially at the annual Christmas party!
Each year, every employee at Coller Industries is privileged to be included in an annual Christmas party. This event includes a luncheon that is catered by a local hotel. There are games, presents and of course wonderful conversations.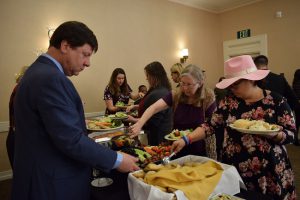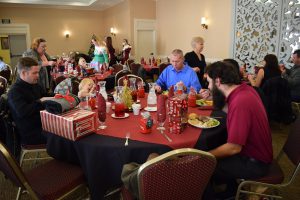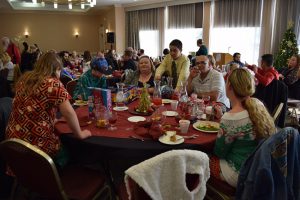 Because we love name tags so much, every year, each employee receives a personalized gift. This year the gifts were monogrammed with the traditional CI logo and adorned with a custom Christmas tree tied with a festive personalized ribbon with each name engraved into it. The mugs were also filled with delicious goodies.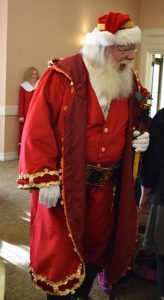 We played bingo, had raffles and there was even an award for naming a new reindeer for Santa's sleigh. Her name is SparkleDream! We also received a very nice duffle bag with the CI logo printed onto it. And every child who came to the party received a hand-chosen gift just for them.
And this year, for the first time ever, we had a special guest show up: Santa Claus! All of the children loved sitting on his lap and singing with him about reindeer and snowmen.
Gary Coller (President): "The best thing about the Christmas party is celebrating the season with my employees and their families. For many of them, this is the only time I see their spouses and children. Year after year I get to see their families grow and it's a great feeling to think that I play a small part in their success."
As employees, we would like to give a special thank you to Coller Industries.
And especially the Coller family and our office manager, purchasing agent and receptionist, Eboni, Audra and Kylie N., for providing such an enjoyable activity for their employees. And here's how we say that thank you!
CreelaBelle (Content Writer): "There was definitely a feeling of camaraderie. I could tell everyone there had a huge amount of love and respect for the company, and as a new employee, that means a lot."
Slim (Quality Control): "This year's Christmas party was awesome! The food was better. I thought the venue was much better this year too. I had a great time!"
Melanie (Graphic Artist): "I really enjoyed the food at this year's party, especially the fish. The company gifts were very nice, and I liked the overall atmosphere of the event – 'formal' but relaxed. This year's party ran very smoothly, and I look forward to enjoying another one next year!"