These wonderful rosette ribbons aren't just for awards!
With all of the available custom options for rosette ribbons, these decorative awards are far more useful than most people give them credit. Yes, they are commonly used as award ribbons, but there are so many other uses! Here are some great suggestions for these perfectly versatile ribbons.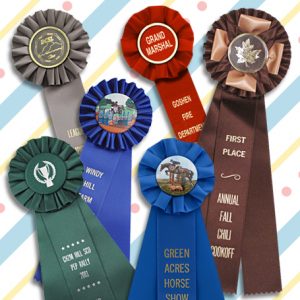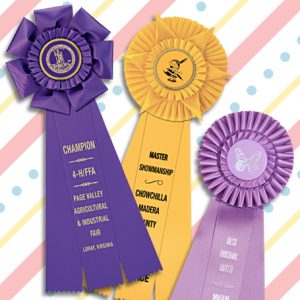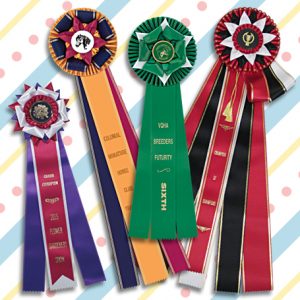 There are three parts to these ribbons.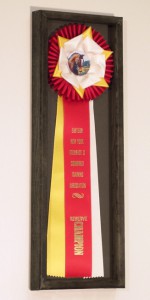 First, the rosette. The rosette is the fanciest part of these ribbons. Customize each layer (tier) with different colors. Each rosette comes with one to four tiers of ribbons, depending on your rosette choice, tucked and pleated to embellish their look. This stacking of ribbons is what makes rosettes stand out from any other award ribbon. And, it gives them their character and name. The way the tiers are stacked makes these ribbons look like a rose!
The second part is the center button. Each button comes as cello, gold-rimmed or satin. And each one can be customized to fit any need you have. Add a logo or a stock graphic to make your ribbon stand out. The button can also have a custom color to match the rosette. This part also holds the rosette together to give it the final custom touch.
And lastly, the streamers. While the rosette is what makes these ribbons fancy, the streamers may be the most crucial part. Personalize any of these rosettes with text, logos and other details. There are options of one, two or three streamers with one color imprinting. The colors are also chosen to match the rosette and button. And, this is where you add any custom text to explain the award or other use for your rosette ribbons. Add names, titles and achievements to the streamers to meet any of your needs.
Awards and Such
From equestrian events to fairs and classrooms, Rosette Ribbons are perfect for all awards.
Rosette Ribbons are great for place ribbons. So, when you have a classroom contest or a need to represent several athletes for the quality of their work, choose from a variety of styles and colors. Most ribbons represent up to nine places and also participation awards. All our rosette ribbons are high quality and can be ordered as custom or stock rosette award ribbons.
And, these rosettes are perfect for awards for any shows or event types. From sports, hobbies and animals to horticulture, business achievements and education everyone will want a rosette as their award for a job well done. With the fancy tops and long streamers, the high-end look will indeed show recognition for doing well.
Customize each ribbon to your needs by choosing a logo or graphic to go with the sporting event or school activity. Then, provide a message for each streamer and individual names for each award. No matter your choice, each award recipient is sure to treasure such a unique gift.
Decorations for Parties and Other Events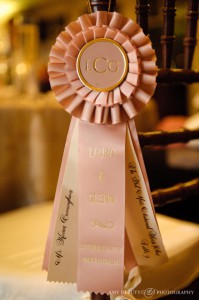 Rosette Ribbons are not only for awards! Use them at your next party or other event. And while awards are perfect on a rosette ribbon, customize this ribbon choice to meet any need. From table decorations to fun props for a photo booth at a wedding, rosettes are more versatile than you know.
Don't limit your thinking when it comes to using ribbons during any event. The key here is to make sure you display the correct message. And make sure that your color choice matches any theme you might have. Using each part of the rosette, customize these fancy ribbons to match your event.
From a wedding to a business convention, rosette ribbons can be the answer to almost any decorating need. Use them as a fancy place setting or a way of directing people into the right banquet room in a hotel or other venue.
Corporate and Personal Gifting
Use your custom rosette ribbons to celebrate someone meaningful. Whether it's for your business or a family member, a thoughtful custom gift is sure to make someone feel special. From birthdays to Valentine's day and Christmas to Halloween, every holiday needs a little ribbon.
Instead of traditional wrapping, use a rosette to replace the average bow on a present or party favor. Or use these fancy ribbons as the actual gift. Recognize anyone for a job they have done well. Or for just turning a year older. And, no matter the reason for the gift, your recipient is sure to remember the thoughtfulness that went into the customization of this unique ribbon.
So, remember the next time you use rosette ribbons that they are so much more than meets the eye. And, if you need help choosing the right rosette, try this!