Roses and lace are traditional for bright spring and summer weddings, but the fun doesn't end there. Personalized ribbons are the perfect finishing touch for your happy day, and you can customize everything to go with your colors and theme.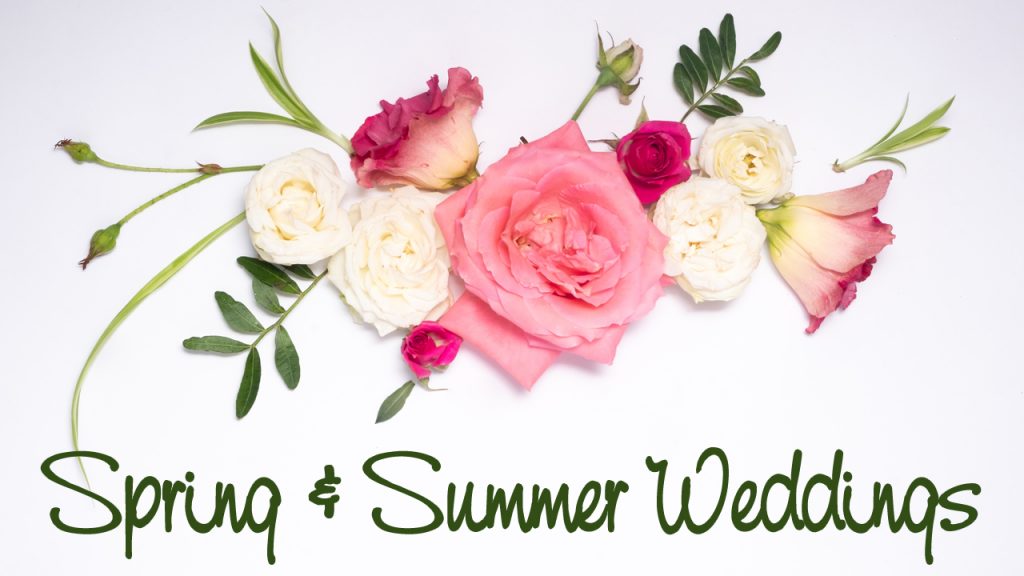 So, you have a venue and your guest list and have started thinking about everything else you need for your special day. But, have you started thinking about decorations? We're here to help when it comes to the personalized details for your wedding. Start with custom ribbon rolls imprinted with your marriage date. Then throw in some badge ribbons to remind people to save that date. Finally, finish with other special touches using custom ribbons for your wedding day. And, don't forget that name tags and other engraved products are just as memorable for your spring and summer weddings!
Spring and Summer Wedding Flowers = Ribbon Rolls!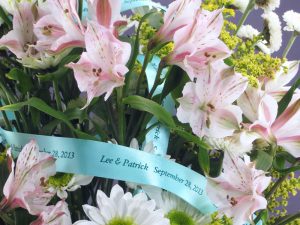 Flowers and ribbons are synonymous when it comes to any wedding. Use them along with the flowers or use them as an accent. Create a romantic and ornate bouquet by adding a trail of flowing personalized imprinted ribbons. Try wrapping these fun, versatile ribbons around vases filled with wedding flowers for a personal touch. Hang small flower bunches from tables and wall fixtures for a fun and festive feel.
From boutonnieres to the bridal bouquet, ribbon rolls enhance even the smallest flowers at a wedding. But, whatever the use, remember to customize the ribbon to match your wedding colors and theme. Add custom wedding details to your ribbons to complete the personalized look. Names, dates and personal information about the bride and groom are great additions.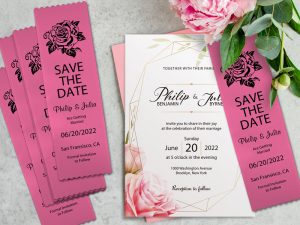 When you're sending out announcements and inviting people to your wedding, it's always helpful to send a save the date card. Often these cards are put on refrigerators or a cork board to catch attention and remind people about your special day. So, why not make the most out of these fun additions to your invitations?
Custom badge ribbons are a unique way to get people's attention. Choose a color to match your wedding theme, then imprint names, dates, places and times so that your guests are ready when you are. You can also add fun graphics and other essential details about your wedding. Then, slip these ribbons into your invitation envelopes and get them in the mail. Remember, guests are more apt to appear at an event when they know you put some real thought and effort into inviting them. Remember to keep one for yourself and have it framed as a keepsake.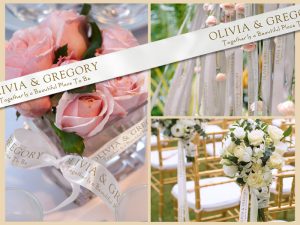 Ribbon rolls are the most commonly used ribbon type. And, with several materials and tons of colors to choose from, we have something for every wedding. Satin ribbon is a gorgeous accent to any wedding decor. Or match two or more ribbon types and colors to create your unique wedding look. For example, you can highlight any graphics and text to show better by using a thicker, lighter color satin ribbon under a sheer organza ribbon.
As with all of our ribbons, personalize these rolls with wedding dates, names and other relevant information. Use the bride and groom's names and wedding dates on a suitable ribbon color that matches the wedding theme. Using your wedding colors and a unique message will help express how special this day is to you.
And don't forget all of the other decorations!
Chairs: Using personalized wedding ribbons on guests' chairs at the reception is a great way to add decorations to any wedding. Make a large bow that can sit on the aisle chairs from any personalized ribbon.
Centerpieces: Centerpieces are a must for all spring and summer weddings. Your centerpieces should reflect your wedding colors and theme, from the simple to the complex. From simple candle accents to more elaborate centerpieces with flowers or balloons, custom ribbons are a must for a personalized look. Ribbon rolls are perfect for centerpieces and other essential decorations at weddings. Or, wrap vases and flowers with personalized ribbons for centerpieces on tables.
Even More: Candle holders are also a great and easy idea for a lovely centerpiece. Pair colors to match them to your wedding theme, and tie a simple bow around a glass votive candle holder. Give these cute candles as favors after the wedding.
Planning a wedding takes time and a lot of patience.
But, no matter how simple or lavish your wedding is, personalized ribbons will make any wedding unforgettable. Whatever your choice, remember that ribbon rolls are great, but not everything. So, use any personalized ribbon for your big day and make it one to remember!
Gifts and invitations are as traditional as they come, but ribbons have numerous uses at a wedding! Make this the wedding they all remember with all of your unique wedding ribbon ideas. Personalized ribbons make weddings absolutely perfect!
Need wedding ideas for a different season? Start here: Autumn Wedding Fever!