Quality ribbons promote company brands at trade shows and other events.
The way to increase brand recognition is to increase brand exposure, and using custom ribbons with your company name or logo at trade shows can help you do just that.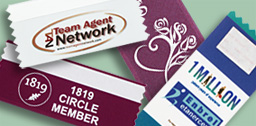 Even within one industry, there is a lot of competition. Many companies sell similar products, and all of them are trying to convince customers to buy from them. If you want to stand out from the crowd, people need to know who you are. They need to see your logo and recognize it as yours.
What a perfect opportunity to get your name and logo out there for customers to see. Trade shows are an excellent opportunity to showcase your products and advertise your brand. Everyone there is interested in your industry and will be looking for the products which you sell.
There are a plethora of marketing tools to use to promote your brand at trade shows. An easy tool to use is ribbons. Ribbons are fun, decorative and eye-catching.
Here are five ways to use ribbons to promote your brand at trade shows.
Backdrop Decorations
Use colorful ribbon rolls to make a backdrop that will stand out. Add your company name and logo to increase brand recognition. Tie strands of ribbon onto a string to make a garland or simply let them hang down from the top of a backdrop board like a waterfall.
Ribbon Name Badges

Help customers feel comfortable talking to you by wearing a badge ribbon with your name on it. When your name is visible on your chest, people can relate to you as a person and feel they can walk up to you and ask questions. Ribbon badges also add flair to your work clothes and make you appear friendlier. You may include your company logo on the ribbon as well, but make sure your name is large enough that people can read it from afar.
Fun Giveaways
Nothing gets people coming to your booth like free stuff! But wait! First make your products look extra special by tying pretty ribbons around them. And again, make sure to add your company name and logo so that the people who receive your giveaways remember you.
Booth Displays
Another way to attract people to your booth is by having a charming table display. Use framed photos of your products or employees and tie a beautiful bow around them. Or, put flowers in a vase to give your booth a sweet-smelling aroma.
Support a Cause

People love it when companies give back to the community. Show your support for a local charity with a custom ribbon that says the name of a cause or non-profit you help fund. Customize these ribbons to have the text on the ends so you can fold the ribbon into a loop and pin it to your chest.