While wedding season is typically in June and July, that doesn't mean the ideas stop flowing. Especially for planning all the details using your personalized wedding ribbons. Yes, typically personalized ribbons are used for adding detail to flowers and centerpieces, but here are a few extra ideas for using all of that personalized wedding ribbon. And, if you run out, you can always order more!
Decorate that wedding cake!
It doesn't matter how many tiers you have on your wedding cake, what matters is that it is special to you. By adding some personalized wedding ribbon around one, two, or more tiers on the cake, you can bring out that special meaning of your day. Make sure to order this ribbon in your wedding colors and add personalized information such as the date, names and maybe a fun phrase that means something special to both the bride and groom.
Wedding aisle decorations
Using personalized wedding ribbon on guest's chairs is a great way to add decorations to any wedding. Make a large bow that can sit on the aisle chairs from any personalized ribbon. Using your wedding colors and a unique message will help to express how special this day is to you.
Wrap any utensils in personalized wedding ribbon.
Simply put, make these items special by adding your dated personalized wedding ribbon around the handles of the cake knife and server. Or, bundle the silverware for the wedding luncheon or dinner with personalized ribbon reflecting the bride's and groom's initials or the wedding date.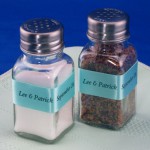 Another fun idea, along this line, is to wrap the salt and pepper shakers or any other serving pieces with your personalized wedding ribbon. This adds to the table centerpieces and overall decorations.
Add personal flair to wedding favors or thank you gifts.
No matter what you're sending home as a thank you for the hours spent on your special day, make it really personal with some added personalized wedding ribbon. Have the ribbon imprinted with a simple thank you, or add names, dates or any other suitable detail that will help a brides maid or even a guest remember your special day.