Give award ribbons to winners and outstanding employees at your office Christmas parties.
Spice up your office Christmas parties with holiday-themed games and recognition awards. Hand out custom ribbon awards to winners and high-achieving employees. Rosette ribbons bring quality and holiday cheer to any office party. Whether you use award ribbons as game awards or as office awards, they are sure to make your next holiday party extra special.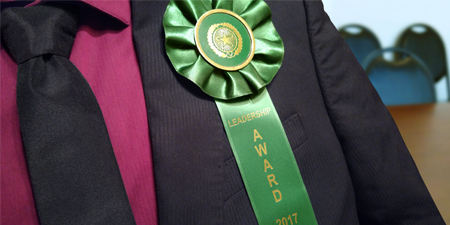 Tired of white elephant gifts? Here are some fun ideas for contests and awards to liven your office Christmas parties.
Games & Competitions
Ugly Christmas Sweater Contest: Shop for the ugliest Christmas sweater you can find, or choose one somebody gave you. Then wear it to your company party.
Christmas Movie Trivia: Test your knowledge of classic Christmas movies like "Miracle on 34th Street," "How the Grinch Stole Christmas" and "Home Alone."
Ornament Guessing Game: Put a Christmas tree in the office and guess how many ornaments there are on it.
Pin the Nose on Rudolph: Wear a blindfold and spin three times. Then see if you can pin Rudolph's nose in place.
Stocking Guessing Game: Put your hand in a Christmas stocking and guess what objects are inside.
Name That Christmas Carol: Guess the name of a Christmas carol from a few lines of lyrics.
Christmas A-Z: Come up with a holiday-related word for each letter of the alphabet.
Santa Limbo: Do the limbo with a pillow under your shirt.
Awards
Biggest Risk Taker: Commend employees for their leap of faith.
Outstanding Innovator: Spotlight those creative geniuses who improve your company.
Marvelous Multitasker: Applaud colleagues who can juggle many tasks at once.
Fast Learner: Congratulate your newest employee for starting on the right foot.
Great Problem Solver: Recognize employees who find a way around every problem.
Excellent Organizer: Thank those who keep files from getting lost.
Rosette Ribbons
Reward game winners and recognize associates with custom rosette ribbons. Our quality ribbons have one to three streamers with one-color printing. The center button is customizable and comes in cello, gold-rimmed or satin. Choose the title and achievement for each award using a custom or stock design so that the award meets the occasion.
Custom Shaped Name Tags
Had a lot of turnovers lately? Does your company have a large number of employees? Name tags ensure everyone knows each others' names at office Christmas parties, so there is no awkwardness. Order custom shaped name tags in the shape of a snowman, a reindeer or a Christmas tree. Or, almost any shape you want!