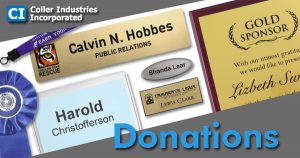 From getting branding exposure to making ribbons fashionable and promoting products and services, giving back to the community is hugely beneficial for any business. But, it isn't about what you get in return for your efforts. It's about who you are helping.
And, here at Coller Industries, we understand that helping out in our community is fashionable. The best thing we get back when we give is the knowledge that we have helped someone. Investing in the community by donating our products is one of our best forms of marketing. But again, it isn't just about the marketing possibilities; it's about the people. So, no matter the need, every donation we make comes with the knowledge that what we do is important for everyone.
This Week's Donation Spotlight: Spina Bifida Texas (SBTX)
The mission of SBTX is to improve the lives of those affected by Spina Bifida and to promote its prevention through folic acid awareness. Our aim is to increase the quality of life of those with disabilities through our programs and resources. Our goal is to decrease the incidence of Spina Bifida through folic acid awareness. At Spina Bifida Texas (SBTX) we value community, education, and family.
Custom Badge Ribbons (Vertical)
Whether horizontal or vertical, these fashionable custom badge ribbons are perfect for any event. They make beautiful awards and also aid in recognizing and identifying sponsors, attendees and so much more. Use these vertical text and graphic ribbons and customize them to fit all of your event needs. Add nearly any text you need and even custom logos and graphics. Choose from a variety of fonts and ribbon and imprint colors to match your event's theme or to add a pop of color to add to name badges and badge holders.

Elizabeth Rivera, Project Coordinator for the SBTX FashionABLE event, provided this excellent description of the organization and event.
FashionABLE (as in "I am able") is a one-of-a-kind program that started 12 years ago. SBTX partners high school design students with children who have disabilities. The high school students are tasked with creating a garment specific to the child's needs. Children with physical disabilities and their families face challenges in many areas, and this is frequently true where clothing is involved. These children often have self-esteem issues, especially with their physical appearance as it may not be what society considers the 'norm.' Their bodies may not be proportional and finding clothing that fits is difficult.
Mobility issues require that many children use orthotics or prosthetics to assist them in their daily activities. These devices are often bulky, which also poses a problem when trying to find clothing. Many of these children have issues with fine motor skills and buttons and zippers sometimes become an obstacle when they try to dress independently. Some of the children are totally dependent on their caregivers for all their needs and finding clothing that is easily slipped on and off is sometimes difficult. Our program was developed to address these issues in an innovative way.
Creating a "FashionABLE" Community
Understanding our community needs teaches that no matter the setting, there are things to constantly focus on to keep it healthy. In order to help people feel that they belong somewhere, we support and manage these insights. And this comes with accepting each other and the diversity of those around you. This community understanding makes us responsible for those around us. This community responsibility not only aids those in need, but assists everyone influenced by any actions in that community. And, we think that is just like this organization: fashionable!
Donations are one way that makes us more responsible in our community. And, building trust in our community is not only a requirement but also the best way to maintain any community. This unified trust is why we, as a company, are always looking to help out in our neighborhood and surrounding areas.