By paying attention to small details, such as ribbon roll use, you can improve your event success.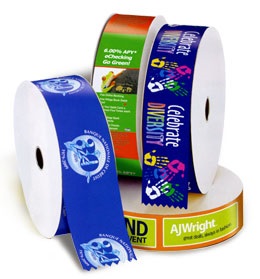 Organizing an event can be stressful, but concise planning and paying attention to even the slightest of details will help make any event successful. And, using personalized ribbon rolls is a surefire way to get your event planning rolling. From full-color ribbons to softer organza ribbons, we definitely have the right ribbon to improve your event. Customizing the right ribbon to suit your specific event is essential and can make all the difference in achieving your planning goals.
Imprint, Full-Color & More: Tips to Improve Your Event
Ideally, a ribbon will improve your event because of the imprinting choices. This customization, while seemingly simple, must involve reflection and planning. For example, if you are holding an award banquet to honor a distinguished guest in your area, you want to make sure that your ribbon rolls reflect the appropriate message. Also, make sure to use a uniform ribbon color that either falls in line with your company or matches a theme so as not to isolate individuals.
From dates and themes to donor's names and other personalized aspects, these ribbon rolls will only improve your event when used appropriately. The imprinting on these ribbons should be a theme, motto or other useful text that will go with the event's purpose. And, again, make sure the color matches the message.
Ribbon color is a huge part of your event planning. Make sure your ribbons complement your other decorations and overall theme. Using bright orange and yellow ribbons at an event featuring safety awareness is extremely effective. However, the same colors may not be appropriate at a black and white gala. And remember that it isn't just about the ribbon colors. Make sure that your imprinting color choice will show up, especially from a distance.
Avoiding Common Mistakes
Make sure that everything on your ribbon roll choice will be legible. And, get the correct ribbon size so that your message will be seen and not lost in the ribbon decoration. Carefully consider what you want to have showing on each ribbon display. And, most importantly, remember that a bow will not show the same information as a chair or wall embellishment ribbon.
Some people order several ribbon types to accomplish multiple tasks at an event. While a fatter ribbon will adequately display the imprinting on a bow, a narrower ribbon may show the same information when used as a straight ribbon decoration. And, favor printing works differently than continuous print. (Find out more here.)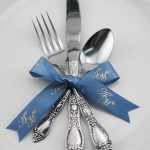 From table centerpieces to picture perfect selfie props, colorful imprinted ribbons are the ideal accessory. Even wrap them around cutlery for summer picnics or a more formal corporate dinner. And, they are perfect for tying up a small bag of goodies for each person to take home. At that point, your event has even more power because the friends and family of each attendee will be able to see your message on these ribbons.
From colors to materials, not every ribbon is right for every event. But, personalized ribbons are here to improve your event.
When chosen correctly, these custom ribbon rolls are sure to make your event one to remember. And, no matter what you decide to use for your decorating, make sure that your imprinting choices match your ribbon choice. Printing on satin versus grosgrain and even organza will always show up differently. Remember to watch your text and image choices when selecting your ribbons.