Have you ever wondered where someone in charge of a grand opening or ground breaking gets that GIANT "Grand Opening" ribbon for the ribbon cutting?
Summer is here which means construction is all around us. This can only mean one thing: there will be new businesses in your area soon! And what comes with these new businesses is grand openings and all the pomp and circumstance that goes with them. From a ribbon cutting to free stuff, we've all been guilty of attending at least one of these in our lives.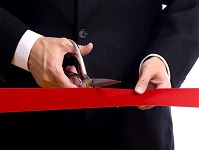 These ribbon cutting ceremonies can be anything like a store reopening after a remodel, an open house for new residential areas and even a groundbreaking at a local park or other public recreation area. No matter the event, these larger ribbons are a great item to have around.
So, now the question remains, where did they get that ribbon? This makes your first step to find that ribbon!
Full Color Ribbon Rolls are probably the best way to get this accomplished. While there are several other choices in multiple ribbon colors and imprint colors, full color will come with the widest option. While most ribbon rolls are typically an inch or less in width, Coller Industries does offer four inch to six inch ribbons as well. These ribbon rolls can be formed into bows, wrapped around gifts, used as table decorations, or pretty much anything else as there are so many uses for them.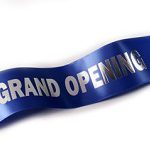 Each grand opening ribbon roll typically is printed onto a color that corresponds with the colors of the company, location or event. From blues with imprint that simply reads "Grand Opening" to this full color option that can be printed with images, logos and text, the sky's the limit! Choose to print the company's logo or name on the ribbon, or be a little more creative and make the ribbon as unique as the event.
Now the only thing you need is a pair of those gigantic scissors!