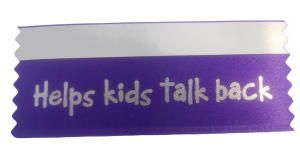 Culture is the environment that surrounds us all the time. A workplace culture is the shared values, belief systems, attitudes and the set of assumptions that people in a workplace share… A positive workplace culture improves teamwork, raises the morale, increases productivity and efficiency, and enhances retention of the workforce. Job satisfaction, collaboration, and work performance are all enhanced. And, most importantly, a positive workplace environment reduces stress in employees.
When it comes to creating a fun work culture for your company, custom badge ribbons are a perfect solution. They make it easy to do team building activities, recognize outstanding employees and promote your business in unique ways. Their bright colors and imprinted designs also bring a festive feel to your workplace. By using badge ribbons to create a positive environment for your employees, you retain a talented team that wants to help your company succeed.
Here are five ways you can create a fun work culture for your company just by using badge ribbons.
Build Teamwork
When employees feel connected to their co-workers, they enjoy working with them on a regular basis. Help your team members build close relationships by encouraging them to get to know each other. Customize badge ribbons with hobbies, fun facts and personality traits. Then, have each employee wear the ribbons that describe them. You will then have a strong team that knows how to collaborate effectively to meet company goals.
The Right Attitude
Create a positive work environment by reminding employees why they love what they do. When you have them focus on the positive aspects of their jobs, they are more likely to enjoy coming to work every day. Give them badge ribbons that highlight job perks such as meeting new people, solving problems or discovering new solutions. Make sure also to include company benefits such as free lunches or extra paid time off. These ribbons will motivate your employees to take pride in their work and put in their best effort.
Crack a Joke (Seriously)
Research shows that humor not only makes work fun, but it also increases productivity. So, give your employees something to laugh about by customizing badge ribbons with work appropriate humor. Use clever puns, dad jokes and funny pop culture references. If you and your team have inside jokes, stick them on a badge ribbon too. Wearing funny badge ribbons around the office will reduce stress levels and keep your employees smiling. The more your employees are in a good mood, the more productive they will be.
Something to Do
Help employees have fun at work by giving them a chance to promote your business in a unique way. Personalize badge ribbons to advertise a company event, product or sale. Then, have your employees display these ribbons on their name tags. Wearing promotional ribbons will make your employees feel like they are making a positive impact on your company. As you help your employees feel useful, they will enjoy working for your company.
Recognize Achievements
Even in a fun work environment, employees want to feel appreciated for their hard work. Thank each team member for their contribution by customizing badge ribbons that highlight their achievements. From perfect attendance to closing a big sale, recognizing these accomplishments increases company loyalty. It also encourages team members to congratulate each other on their accomplishments. By creating a work culture where everyone feels valued, your employees will love coming to work. You will also attract new talent as word of your positive company culture spreads.
These are only five ways to use badge ribbons to create a fun work culture, but there are many more. So, get creative and customize badge ribbons with almost any combination of text, colors and graphics. As you put these colorful ribbons to good use, you will have a talented, productive team working to make your company thrive.