As parents shout for joy, many teachers are preparing for their return back to school. From pencils and pens to notebooks and rulers, school supplies are in abundance right now. Teachers and parents alike are preparing their children to return to the classroom to further their education. But, the hardest thing right now for teachers is getting their rooms prepared for students to return.
While we don't have pens and notebooks, we do have something you need. Check out all of these different ribbons. And, find out why they are essential to have in your classroom and available for your students.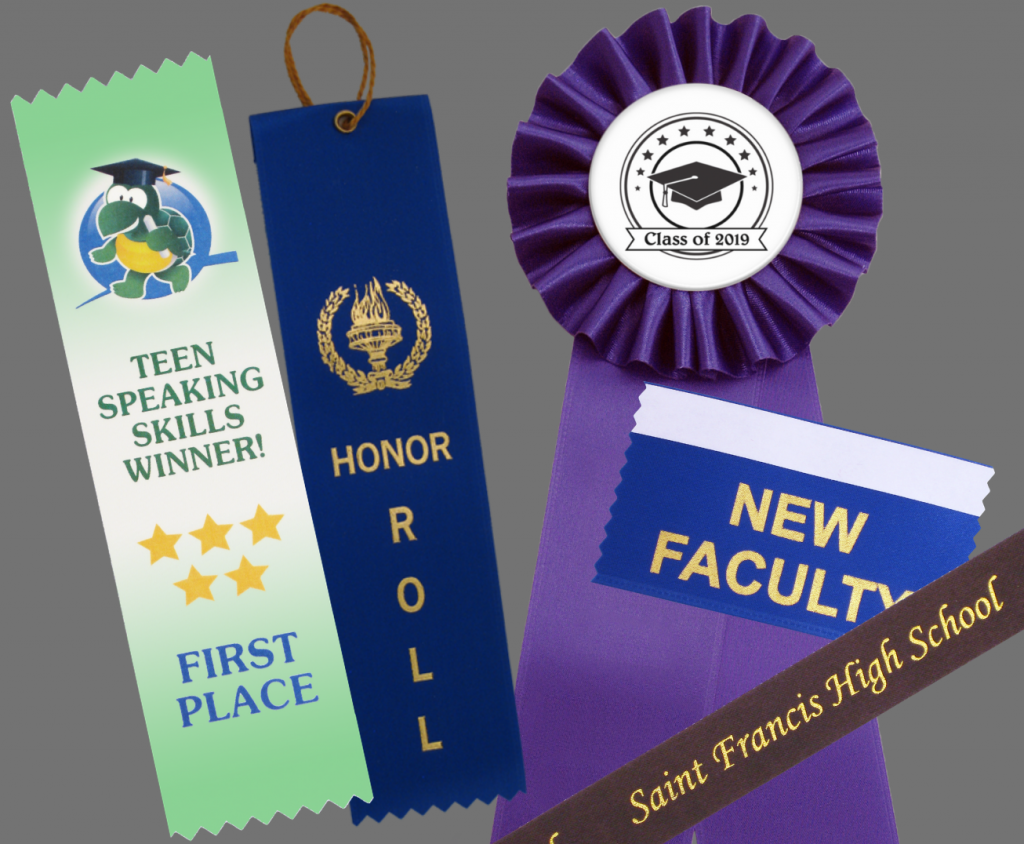 Prize ribbons fill this need perfectly. No matter why your classroom needs student awards, all achievements will be recognized equally with these ribbons. From "Great Job" to "Student of the Month," every student will appreciate receiving these fantastic ribbon awards. Or, give honorary titles such as "Star Student" and "Super Reader" to deserving kids.
Outstanding, Awesome and Great Job may be an understatement when a child receives one of these fantastic ribbons. Everyone at school will light up with joy when they receive one of these bright stock achievement ribbons. Mix and match 17 fun, colorful titles to meet the minimum order quantity. These stock ribbons are already printed and are available to ship the same day as ordered.
And they are fun to collect. Students may decorate their desks, use them as bookmarks or take them home to display these awards proudly for all to see. So, help each person at your school see just how important they are with these incredible awards.
Recognize early graduates and award outstanding behavior this school year with a fantastic gift. These ribbons go above and beyond expectations when it comes to awards. Every rosette has fancy pleats and a choice of multiple streamers. Customize each feature to make sure these will win the hearts of all of your students.
Add names, titles and even an image of your mascot to these ribbons when personalizing them. Whether it be for making the honor roll or choosing a student of the month, any child will be amazed by this impressive award. Or, recognize student athletes from your class. We also have several stock rosette ribbons with imprinted buttons to fit any sport or athletic event.
From bulletin boards to presentation folders, your classroom isn't complete until you have ribbon rolls. Choose from a variety of colors to match your school motto and mascot. Then get to decorating that classroom! The whole school is sure to be jealous of all the fun you will have while preparing your room this year.
Here's a fun idea: when giving out welcome gifts to your students, make sure to wrap them with this fun ribbon. Your students are guaranteed a great first impression when handed trinkets with personalized ribbons wrapped around them. And, maybe they will even behave a bit better as a way of saying thank you for your thoughtfulness.
Whether it's for a new teacher in your school or a way to identify different grades, badge ribbons are here to be the best solution ever. With double-sided tape ready to stick to anything (like a name tag), these ribbons are super easy to use. Great for labeling things in the classroom, these ribbons are incredibly versatile.
Use them as labels when storing classroom supplies like markers or crayons. Or, give them to students as you are trying to learn all the new names for this school year. So, no matter what you need these wonderful ribbons for, they are perfect for nearly everything!
So, get to it, and add some fun and creative personalization to your school and classroom with custom ribbons.