From company summer festivities to family reunions, badge ribbons are perfect for every occasion.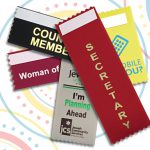 Stand out from any crowd with bright, fun and festive badge ribbons. Each ribbon is useful in making an initial introduction when worn with a name badge. They help to break the ice for those attending social meetings and get-togethers. And, it is always fun to think outside the box to come up with unique ways to personalize these badge ribbons.
While name badges are the usual place to find a badge ribbon, these identification tools are perfect for imaginative uses. From group identifiers to getting to know you games, these ribbons help add flair to any event or function. And, here are a few ideas to get you started!
No matter the size of your family, getting everyone together in one place and at one time is a massive undertaking. And making sure that everyone in attendance knows each other can be a daunting task.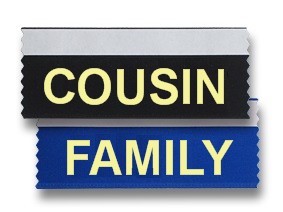 From colors to fun titles like Cousin or Great-Aunt, badge ribbons are an excellent way to identify people. Start with name badges so that everyone won't be guessing people's names all day. Then, attach badge ribbons to familiarize each other with how they are related. Create custom ribbons with words such as father, aunt, cousin, sister or choose the last name to indicate from which family line they originate.
Fundraisers are also a common place to see badge ribbons.
These ribbons are a fantastic tool for identifying a cause or support group for each fundraiser. Choose a color, such as pink for breast cancer support or a rainbow ribbon for autism supporters, and then add a title or function for the wearer to attach to their name badge. Stacking personalized ribbons on name badges is an effective way to identify any role at these and other events.
Networking and Meeting New People
Titles are a typical thing to see imprinted on badge ribbons. However, use your imagination and come up with fun things to add to these promotional ribbons. They don't always have to be professional. Add silly things that will make them memorable such as Coffee Fiend or Here For The Food. Let attendees pick out something that describes their personality so others at a conference or corporate meeting will feel more at ease.
And remember…
Badge ribbons are inexpensive and come in both horizontal and vertical designs and can be customized to meet any need for any function. Don't limit yourself while using these tremendous personalizing tools. Even order blank ribbons to quickly identify specific groups by a single color worn by each person.