From flowers to backdrops, personalized ribbons are perfect for any wedding!
Custom ribbon rolls are the most commonly used ribbons and are great for nearly every event or occasion. From the perfect color choice to a personalized message, we will produce each ribbon roll for anything you need. And, they are a magical addition to any wedding.
Each ribbon is Single Face Satin. The red is Scarlet in 7/8 inch with the couple's names imprinted in metallic silver. The yellow is Baby Maize in 3/8 inch with the wedding date imprinted in metallic red. Here are some great time and money saving tips for decorating with your personalized ribbons.
It's All About the Flowers
All of the flowers at this beautiful wedding were accented with these personalized ribbons. From the corsages to the boutonnieres, the smaller floral arrangements had either the yellow or the red ribbon wrapped around the stems. Some, such as the mother's corsages, had little ribbons poking out from the flowers as well. The bride's maid bouquets matched closely to the bride's bouquet with the stems wrapped together using both the red and the yellow ribbons.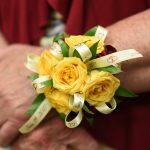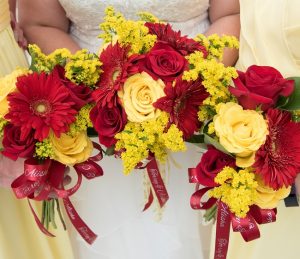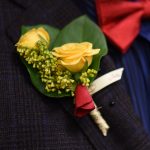 Centerpieces and Table Decorations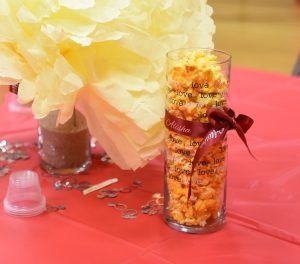 While the main decorations were bright red and yellow paper flowers, the groom had the fun idea of incorporating the ribbons alongside. The ribbons were quickly cut from the roll to display the imprinted information. Using these snippets, they were placed on each table and the display tables as decorative scatter. Several of the guests complimented the couple on this grand idea!
The centerpieces were vases full of fun, colored popcorn that was part of the refreshments for reception guests. Each vase was tied with a length of ribbon roll to display the color theme for the occasion.
And Don't Forget the Cake!
Keeping with the color scheme was important for this couple. So, not only did the flowers have to match, but so did the ribbon. And it was flawlessly displayed on the three-tiered cake! Both ribbon colors were wrapped around the base of each layer. The baker was careful to make sure that the names and date showed nicely without any overlap.
Most of these ideas were crafted by either the bride or the groom; some on the day of the wedding and reception! So, no matter how simple, or how ornate, you want your wedding to be, personalized ribbons are always a great way to go.