Summer isn't everything because winter sports are here to stay!
When people think about sports ribbons, they tend to think about track and field or swimming. However, winter is about to prove something to this trend. From skiing to figure skating, these winter sports athletes deserve award ribbons too.
Bring on the Snow
From skiing to snowboarding, some athletes are all about the fluffy whiteness called snow. And, while it may be a bit cold, snow is a great thing to play and compete in. So, for your favorite skier or winter athlete, find the best award ribbon with us.
Rosette Ribbons for Everyone
Even if the award is for best form on a sled, each athlete should be acknowledged for their talents. Rosettes are the most common of ribbon awards for any sporting event. Skiing, bobsledding and other winter sports are no exception to these awards.
With the fancy rose and button features, these award ribbons are perfect for recognizing any sporting achievement. Simply customize the ribbon streamers with recipient names, titles and even small graphics. And, you can choose from several colors to match the ribbon to the sport.
Don't forget the other award ribbons!
Award ribbons can be merely a flat piece of ribbon, such as a badge ribbon, or a fancier use of a ribbon material. Each award ribbon is commonly presented as a prize or other mark of recognition to honor the recipient for an achievement. Even more, award ribbons come in all shapes and sizes.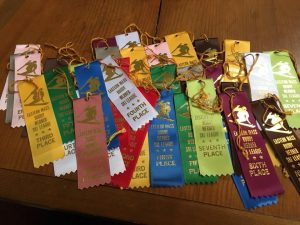 And, each type of ribbon can be used for multiple purposes. Whether an award is being presented at a sporting meet or just for fun, every award should accurately reflect the achievement. Ribbons come in stock placement and participation titles. Or, customize your ribbon choice to meet your current needs.
Use titles such as "Best in Show" or "Perfect Athlete" for your award ribbons. And add your favorite graphic or logo to each ribbon, so the athlete remembers what the ribbon was for.
And, don't stop there. Try these award ribbons for any sport or other achievements you can think of.