Badge Ribbons
Every event should distinguish staff, volunteers and attendees from each other. Here's a great and colorful way to get that task done. Choose from an abundance of stock titles or create custom designs with these versatile badge ribbons. Choose a Name Tag to show off your company logo and brand or a Badge Holder that will help identify everyone at your next event.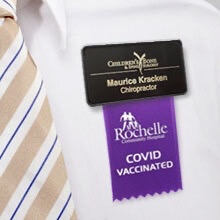 Stock Badge Ribbons
With over 50 stock titles to choose from, these badge ribbons are sure to work for any event you are holding. Mix and match titles to meet the low minimum order quantity.
---
Custom Badge Ribbons
Conferences, conventions and every event can be improved by adding Custom Badge Ribbons. Choose from either horizontal or vertical orientations for your next sale or store promotions.
---
Full-Color Badge Ribbons
Use these Full-Color Badge Ribbons as the perfect answer to all of your marketing and event needs. By using a white ribbon, you can add any logos and photographic images (including gradients).