We strive to provide the highest quality products at great prices. Our products are guaranteed defect free; for more information, see our Guarantee.


Frequently Asked Questions
All the information you need to order confidently. If you have a question or would like more information call 1-800-272-5729 to talk to our excellent customer service agents.-
General Information
Can I get a sample of the product I would like to order?
We do not offer production proofs or first articles for ribbons. You may request a sample of many products and materials. Sample requests will be generic products showing the capabilities of our machines and processes. A proof will be emailed to you soon after we process your orders so that you can approve the design of your product.
Will I get a proof of what my product will look like, before production begins?
Yes. For all Custom Ribbons, a proof will be created and emailed to you soon after your order has been processed. Please make any revisions, if any, on this proof and return it to us. The production of your ribbons will NOT begin until you have approved your design and we receive a signed proof.
How are imprinted ribbons created?
Imprinted ribbons use a foil stamping process that transfers foil or pigment colors to the ribbon surface at high temperatures. First, the metal or polymer stamp is attached to the stamping machine and heated. The foil comes next, with the ribbon last. Pressing the stamp down onto the foil transfers the color onto the ribbon surface.
Why is vector art required?
The quality of your printed ribbons is dependent upon the quality of the artwork submitted to Personalized Ribbons. Vector art retains its quality when the size of the images is changed. It also provides the clean edges between colors that are required to produce metal and polymer dies.
What is art cleanup/conversion?
Vector artwork is required for all imprinted ribbons that have your logo or custom artwork. If you don't have a vector file, we offer an artwork clean-up/conversion process. This process will trace your bitmap, capturing the underlying shapes in a vector format. There is a 24 hour turnaround time required for this service and no expediting option is available. The vector file will be sent to you upon payment.

A bitmap image is not converted to a vector format when it is saved or embedded into a vector file; when this is attempted the image is simply embedded in the new file and no conversion takes place.
Ribbon Rolls
When printing on a ribbon roll, how do I get the imprint so that it is only on the ends of my bow?
STEP 1 - Make a Mock-Up:
Use a ribbon the width that you want, to create the shape that you need. If you will be tying it around something, use something of a similar size to tie it around to create your mock-up. Trim or mark the ends.
STEP 2 - Take Measurements:
Mark where you want the imprint to begin and end. Then untie the ribbon and measure as shown here: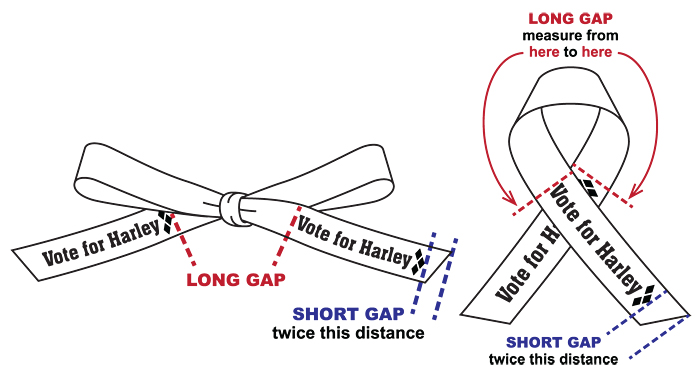 If you will be cutting the tails off at an angle, be sure to measure from the longest point.
STEP 3 - The Final Result:
The ribbon will be imprinted with the long and short gaps that you specify. The final result will be a ribbon with two imprints, a big space, then two more imprints.



Here is how you would cut it to achieve the same lengths seen in your mock-up:



You will then cut between the two imprints that are close together to create strips with an imprint on either end.
STEP 4 - Reading the Proof:
Before we imprint your order, we will send you a proof for your approval. Due to the limited space available and the lengths of the finished products, some adjustments have to be made to get all the information to fit. Here is an example of a typical Continuous Ribbon proof:



A - Ruler depicting a length to-scale side-to-side.
B - Rough sketch of where the imprints will be in relationship to each other. Side-to-side distances are to-scale; height of imprints and ribbon have not been adjusted to match finished product. Use the ruler above to verify that the long gap, short gap, and imprints are all the length required.
C - Larger view of finished ribbon, showing the imprint to-scale and an estimation of the requested colors. The area of the imprints and the short gap can usually be shown. The long gap will not fit, so is represented by the spaces on either end.
Badge Ribbons
What are the differences between stock, custom and full color badge ribbons?
Stock Badge Ribbons:
More than 40 pre-imprinted ribbon titles, each is available on flag blue ribbon and one other ribbon color.
Minimum order: 25 ribbons, you may mix and match ribbon titles and colors to meet this minimum.
These ribbons are preprinted and kept in stock so that most orders will ship within one business day.
Custom Badge Ribbons:
Add your custom text and/or logo to the ribbons. You select the size, orientation, ribbon and imprint color, and font.
Minimum order: 25 ribbons, you may mix and match unique ribbon layouts to meet this minimum.
A set-up fee will be charged for each set of ribbons and includes the time required for machine set-up and stamp production. We offer two options for these stamps: metal and polymer. A metal stamp will always create a better imprint than a polymer stamp, but there is an increase in cost.
You will receive a proof for each unique ribbon layout, this proof must be approved and returned to us before production will begin.
Your request defines the production time based on the number of titles, ribbons and the stamp selected (metal or polymer). Average production times range from three to eight business days.
Full Color Badge Ribbons:
Your ribbon will be printed in full color directly onto the ribbon, allowing for multiple colors, gradients, and detailed images. While the ribbon is printed on a white material, the background colors of your design may be extended (bleed) off the edges of the ribbon.
Minimum order: 100 ribbons. Titles and colors may NOT be mixed.
There is a set-up fee for each unique ribbon title. If you supply production-ready art, this set-up fee may be reduced. You will need to follow all instructions on the order page to qualify for the reduced set-up fee.
You will receive a proof which must be approved and returned to us before production will begin.
Standard production time is 7 to 14 business days after we receive a signed proof. Production times may need to be increased due to the quantity or complexity of your order and the limits of our production capacity.
Can I combine multiple ribbon titles to meet minimum order requirements and qualify for discount pricing?
Imprinted badge ribbons allow the mixing of different titles and color choices to meet the minimum requirements. Full-color ribbons have a minimum order of 100 pieces per ribbon layout.
Why do badge ribbons require a set-up fee for each title?
Every change of ribbon text, color, or layout requires a new stamp and the set-up fee covers the cost of manufacturing the stamp and the time needed for machinery set-up.
What is the difference between metal and polymer stamps?
We recommend metal stamps because metal retains the heat required for stamping and is hard, creating cleaner edges on the imprint. However, there is an increase in cost and production times. A metal stamp is required for the following situations:
Text smaller than 18 pt. in size. Such as ribbon titles with long words or over 20 characters.
Selecting an imprint color that requires a metal stamp.
More than 1,000 ribbons per title.
Polymer stamps are created using resins and are softer than metal. These stamps do not transfer heat in the same way as metal, making the final product less crisp. Polymer stamps work well for bold lettering larger than 24 points, imprint colors that transfer at lower temperatures (see order pages for information) and rush orders. Polymer dies are only available for custom text ribbons.
When is a metal stamp required?
While we recommend a metal stamp for every imprinting job, there are four instances they are required:
When your design has a logo.
When your design has fine details, small or excessive text.
Imprint colors that require a higher heat for transfer (see order pages for information).
Quantities of 1,000 for each unique layout.
Rosette Ribbons
What is the difference between Stock and Custom Rosettes?
Stock rosettes are a cost effective way to recognize every winner and achievement.
Choose from five rosette styles: Victory Torch, Place, Star, Gymnastics, Swim.
Rosettes are 4 inches in diameter and 12 inches from top to bottom, with a string back.
Colors and titles are pre-set for each rosette style. First to sixth place rosettes are available for all styles. Other mentions and options may be available, see the individual order pages for a complete list of available titles.
Minimum Order: 10 rosettes, you may mix and match rosette titles to meet the minimum order.
Custom rosette ribbons are a colorful and attractively designed symbol of success and top achievement. You can customize every aspect of these awards, from the size to the ribbon colors and imprinted message.
Choose from a large variety of rosette styles ranging from a single layer, four inch rosette to a deluxe six inch rosette with multiple layers, loops and tassels.
Three rosette center styles are available, with an available library of stock designs, or you may provide a custom design.
Select from thirty ribbon colors. Choose up to three colors for each rosette.
Rosettes streamers are available in multiple lengths, with each rosette style having from one to six streamers.
Streamers will be imprinted with your information in your choice of imprint color.
Choose a hook, pin, string or plain back fastener.
Minimum Order: 10 rosettes, you may mix and match ribbon colors and streamer text to meet the minimum order.
How can I place an order for custom rosettes?
We offer two convenient ways for you to place an order; by phone (1-800-272-5729) or online. By phone, you can speak with one of our customer service representatives who can answer your questions, help you put together an order and can provide you with an accurate quote. Online, you can view various images and samples, see the ribbon colors and center designs and check out the prices and production times, as well as place an order.
Due to the complex nature of custom rosettes, customer service will always email you with a final quote and a proof, which must be approved before production begins.