STEP 1 - Make a Mock-Up:
Use a ribbon the width that you want, to create the shape that you need. If you will be tying it around something, use something of a similar size to tie it around to create your mock-up. Trim or mark the ends.
STEP 2 - Take Measurements:
Mark where you want the imprint to begin and end. Then untie the ribbon and measure as shown here: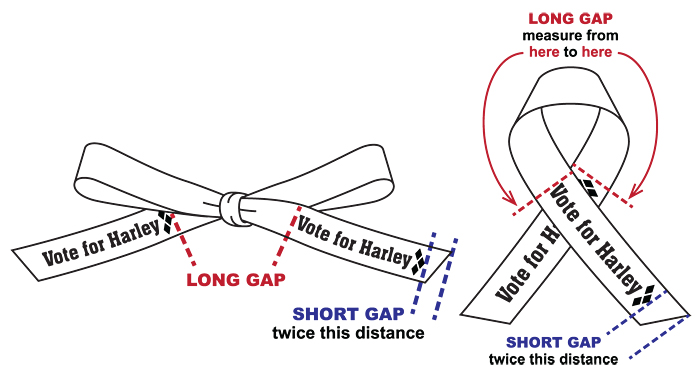 If you will be cutting the tails off at an angle, be sure to measure from the longest point.
STEP 3 - The Final Result:
The ribbon will be imprinted with the long and short gaps that you specify. The final result will be a ribbon with two imprints, a big space, then two more imprints.



Here is how you would cut it to achieve the same lengths seen in your mock-up:



You will then cut between the two imprints that are close together to create strips with an imprint on either end.
STEP 4 - Reading the Proof:
Before we imprint your order, we will send you a proof for your approval. Due to the limited space available and the lengths of the finished products, some adjustments have to be made to get all the information to fit. Here is an example of a typical Continuous Ribbon proof:



A - Ruler depicting a length to-scale side-to-side.
B - Rough sketch of where the imprints will be in relationship to each other. Side-to-side distances are to-scale; height of imprints and ribbon have not been adjusted to match finished product. Use the ruler above to verify that the long gap, short gap, and imprints are all the length required.
C - Larger view of finished ribbon, showing the imprint to-scale and an estimation of the requested colors. The area of the imprints and the short gap can usually be shown. The long gap will not fit, so is represented by the spaces on either end.