From custom ribbon roll ideas for your wedding to badge ribbons for your next event, Ribbon Impressions is here to help. Get all your event needs in one place and find out how to use them to best suit any event you are planning. Use our how-to articles to get your ideas flowing for using your personalized ribbons.
Or, find out which ribbons best suit and help at your conference or convention. With product highlights and informational articles right here at your fingertips, your next meeting is sure to be a great hit for sponsors, attendees and all event-goers.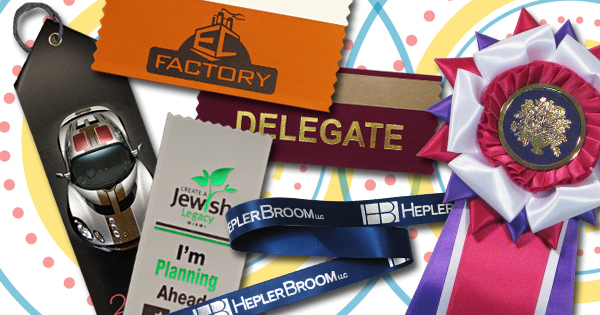 So, whether you're looking for a creative idea for ribbons or need to find out how to use them, look no further. Ribbon Impressions is here to solve all of your creative needs for your custom and personalized ribbons. We're also here to help you plan for your next event. But, overall, we're here for you, our customer.
From awards and promotions to holidays and events, Personalized Ribbons is ready to help with all your ribbon needs. And, Ribbon Impressions is the place to get you started. Badge Ribbons are perfect promotional tools for your next event, meeting or conference. Customize ribbon rolls with almost any text, logos and graphics. Rosette Ribbons are available as stock designs or custom made to order. No matter your ribbon need, we are sure to have it. Personalized Ribbons is a growing part of Coller Industries Incorporated.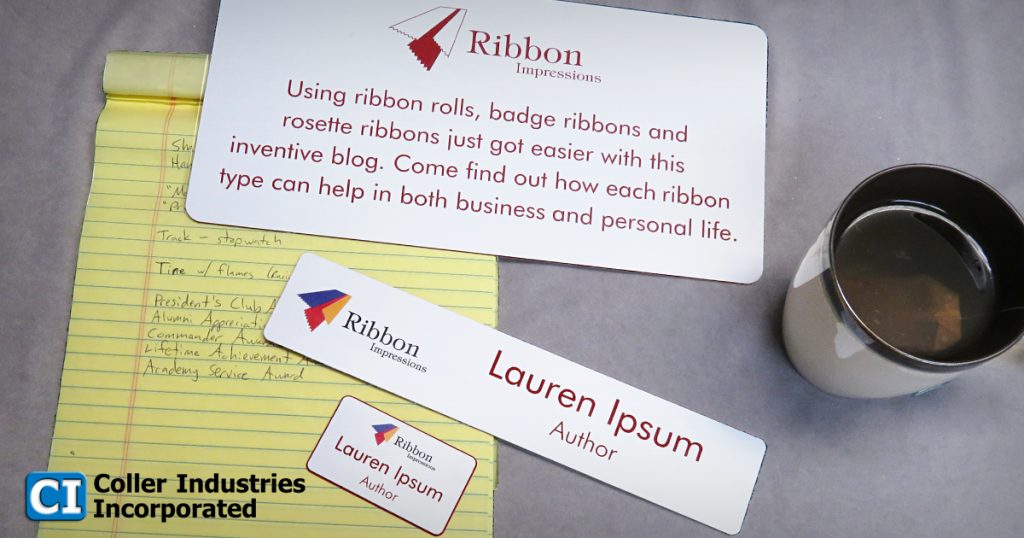 More About Ribbon Impressions
We started as "Ribbon News," but over the years, we've branched out to so much more. And to keep in line with that expansion, we have changed our name to Ribbon Impressions. We have grown rapidly as Coller Industries Incorporated over the past 20 or so years, and our focus and mission have always remained the same "To Serve Our Customers." We accomplish this mission by providing fast and friendly service with only the highest-quality products.
As the industry leader in custom products, we offer a large selection of ribbon types, materials, sizes, fasteners, methods of adding a logo and many other customizations for all of your Personalized Ribbons needs. We run like a small business but have a big-business attitude.
What's the benefit from that? You, as our customer, get to take advantage of our incredible quality guarantee. You also get the knowledge that you are treated like top priority every time. And with our product and service guarantee and our low error rate (0.12 percent), Ribbon Impressions stands by our products and you, our customer.
Personalized Ribbons For Every Occasion, Event and Celebration
Spice up your creativity and find innovative ways to use any style of ribbon. Choose from a large variety of custom and stock ribbons to use for awards, conventions, weddings, holidays and more. No matter what you need, we're sure to have the perfect ribbon!
So, if you love custom ribbons just as much as we do, take a look around, we're sure you will find something useful.