Horizontal Ribbons with Stock Titles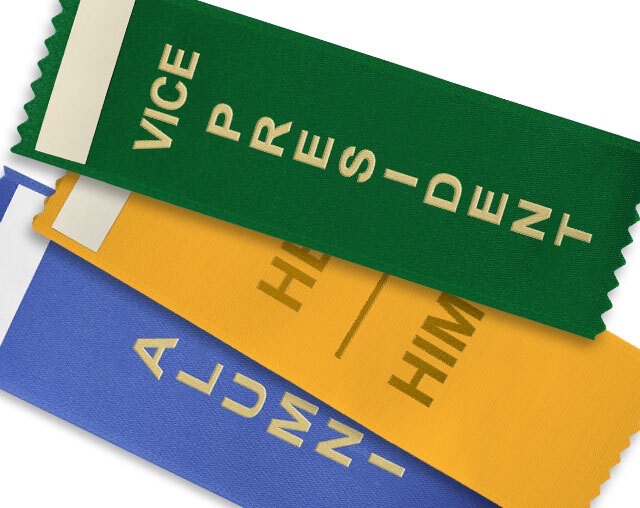 ---
Product Specifications
Each ribbon is 4 x 1.625 inches.
Both sides of the ribbons are pinked.
An adhesive strip is included along the front, top edge.
Available in marine blue and one additional color (dependent on the title).
Longer titles may be printed on multiple lines.
The ribbon is imprinted with a metal stamp, and most ribbons come with gold imprint.
MINIMUM ORDER: Mix and match titles and colors to meet the minimum order of 25 ribbons.
PRODUCTION: Stock titles are always ready to ship. Orders received after 11 a.m. Mountain Time are processed the next business day.
---
Quantity Pricing Table
SHIPPING: Costs and shipping methods are available in the shopping cart. Learn More
| Item | 25+ | 100+ | 500+ | 1000+ | 2500+ |
| --- | --- | --- | --- | --- | --- |
| Price per ribbon | $0.55 | $0.39 | $0.28 | $0.22 | Call |
---
Stock Ribbon Titles and Available Colors
Available in two colors: marine blue and one additional color (depends on title, see color chart for more info). Longer titles may be imprinted on multiple lines. Imprinting is done with a metal stamp and is typically gold. Stock Ribbon Titles and Colors (Printable Version) Stock Ribbon Titles and Colors (Printable Version)
---