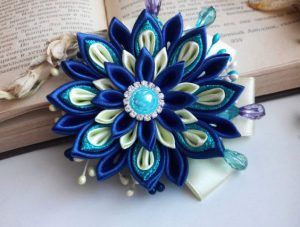 When most people think of ribbon rolls, they consider wrapping presents or decorating for a party or some other function. Some people, however, think "what can I do with this that will make it quirky?" Here's an idea to get your creative juices flowing! Kanzashi Flowers!
We love sharing the way people around the world use ribbons! Kanzashi are traditional Japanese folded flowers. These flowers are made from small squares of silk, fabric or ribbon, and are typically worn by women as hair ornaments.
Kanzashi flowers are traditionally made with habotai silk giving them a vibrant color and rich texture. However, some people create these flowers with ribbon or other fabrics.
Making kanzashi flowers takes patience and a lot of practice. There are several ways to make these flowers, depending upon the ribbon type you are using and what kind of flower you are creating. Some people reinforce the flowers by sewing the petals together or gluing beads and buttons into the center of the blooms.
While kanzashi are traditionally used as hair ornaments, these lovely flowers have a variety of other uses:

Secure a flower to a pin or wearable magnet and wear it as a brooch.

Sew flowers to the bottom of a scarf or the brim of a winter hat.

Add a flower to a gift in place of a ribbon.

Sew flowers to your favorite accent pillow.

Arrange several flowers in a glass bowl for a unique centerpiece.
How To Make Kanzashi Flowers
Take your ribbon and fold it across the width to get a triangle and with that as a template cut it out into square pieces. The number of pieces you need will depend on the width of the ribbon.
Fold the square into a triangle first and bring together the corners. Now, fold this shape again along the newly formed edge and the gathered corner. Be sure to secure the cut edges using a lighter or another flame. Hot glue also works to hold the petals together.
Once you have finished all folding, you will have three folds parallel. Make sure to align them properly/evenly so that your flower petal looks symmetrical.
Now that your petals are ready, all you need to do is to apply hot glue on the sides of each flower petals and glue them together to form a ring of petals which will resemble a flower in any case.
While there are many tutorials online for making kanzashi flowers and ornaments, here are a couple of pictures to get any creative mind working at full capacity.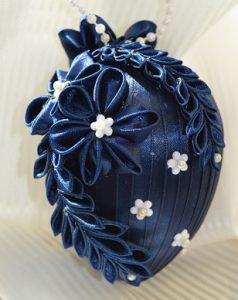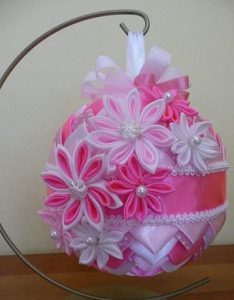 Add your flair to these lovely flowers using buttons, lace, rhinestones or glitter; whatever your heart desires to make this craft your own.