Personalized ribbons make weddings absolutely perfect!
Gifts and invitations are as traditional as they come, but ribbons have numerous uses at a wedding!
Rolls are the most commonly used ribbon type. Use them party favors, for gift cards and presents, in decorations and accents, on corsages, cake decoration, and bouquet wraps. Personalize any of these ribbon types with wedding dates, names or other relevant information.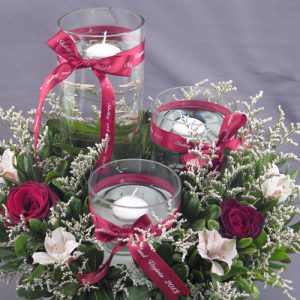 Centerpieces are a must for all weddings. Any flower choice will look lovely in a simple wine glass wrapped with your personalized ribbon. Each ribbon may have an imprint of the bride and groom's names and dates on a ribbon color to match your wedding theme. Or match two or more ribbon colors for a unique look.
Satin ribbon is a gorgeous accent to any wedding décor. Wrap vases and flowers with personalized ribbons for centerpieces on tables. Create custom pieces by having names and dates printed onto the smooth ribbon. From the simple to the complex, your centerpieces should reflect your wedding colors and theme.
Candle holders are also a great, and easy, idea for a lovely centerpiece. Pair colors to match them to your wedding theme and tie a simple bow around a glass votive candle holder. Using a lighter color satin ribbon under a sheer organza ribbon is perfect for any text showing through. Give these cute candles as favors after the wedding.
While rolls are the most common, use all custom ribbons at all weddings!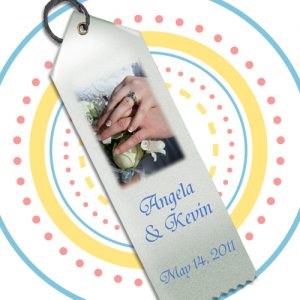 Make a unique save the date wedding invitation with custom imprinted badge ribbons. Choose a color to match your wedding theme. Imprint names, dates, places and times so that your guests are ready when you are! Remember to keep one for yourself and have it framed as a keepsake.
Another great idea for custom imprinted text ribbons is to use them for seating arrangements. From wedding party titles to a person's name, choose colors that match your wedding decor. Send them home as a reminder of your special day. Those in your wedding party will enjoy these personalized favors.
No matter what you choose (full color ribbons, badge ribbons, imprinted ribbons and ribbon rolls) these celebration ribbons are sure to make your special day just as wonderful as you have been dreaming. Let us help you to make your day truly special.