Promoting your brand successfully takes time, strategy and involves many different aspects of business technique. Why not make it a bit easier with custom and personalized ribbons?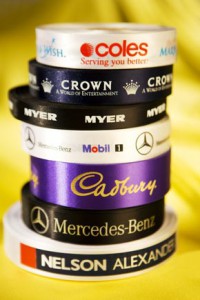 These ribbons are printed with your custom message and company logo. All of our high quality ribbons come in a variety of color choices and can be customized to meet your needs. Your company details or specific messages will be printed on ribbons of your choice. Promote your business with these innovative and decorative ribbons in a number of uses.
A popular way of promoting your brand is to give away promotional products and gifts. This can help you to build your brand recognition and increase sales. Don't limit yourself on the types of gifts you give away. It can be something as simple as a homemade treat to an actual product sample. Just remember to brand it with your logo, company slogan or something that makes it truly yours. Use ribbon rolls with your slogan to wrap around boxes or gift bags.
Use ribbons for all occasions and needs!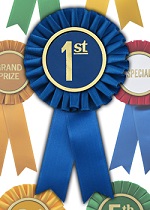 Are you attending a trade show or convention in the near future? Ribbon rolls are a great way to brand your booth or table at these events. From simple table wraps to bows and ribbon walls, make sure your design stands out to those who are walking by. Rosette ribbons are also a great way to decorate your booth. Brand your company as "First Place" with a place rosette ribbon or choose something a little grander to get your message across.
What about the upcoming holidays? Thinking about corporate gifting yet? Don't forget that one of the easiest ways to get your brand out there is by word of mouth. And what better way than to let your employees help you? Choose your holiday gifts and then wrap them in pretty ribbons with your logo all over them. Or choose a simple badge ribbon as a gift tag to do the trick.
Whatever your choice, custom ribbon is a fantastic marketing tool. And you can use it to increase your brand awareness.