Graduation season is upon us!
Are you looking for ways to make it a little more personal?
Typically graduation ceremonies are done en masse, but are usually followed by a more personalized celebration or party. Here are some simple ways to add your own flair to your graduate's shindig!
For all those little graduates out there, such as those graduating from preschool or even middle school, who are not getting any sort of degree, acknowledge them with a personalized badge or award ribbon. Choose from a variety of colors to match school colors or the graduate's favorite color and then customize the ribbon with graphics and text. This is a simple blue badge ribbon with vertical text, but choose a ribbon that will match your graduate.
Another great idea for using badge ribbons is to use them as a non-traditional invitation or announcement. Simply create this as a custom ribbon with imprinted text. Choose your color and add a saying or quote. Add a graduation graphic and the graduate's name and the date of the ceremony. These are sure to stand out and make your graduate feel extra special.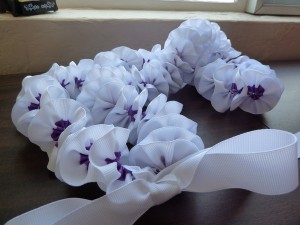 Recently it has become traditional to acknowledge graduates with a lei or floral arrangement that they can wear. Make this a lasting gift with personalized ribbon rolls.
Making a ribbon lei is easy if you have the right tools. Make these leis extra special by customizing the ribbon rolls with dates and names. Also choose colors that match either the graduate's outfit or school's color motif. Make sure your ribbon rolls are the same length for this project.
Start with either sewing thread or embroidery floss measured to the desired length of the lei and add about two inches. Next, grab your personalized ribbon rolls. This version of a lei is great using two widths of ribbons. Simply lay the smaller ribbon on top of the larger and match up one of the edges. This creates a layered look and is sure to impress once the lei is complete. Start your thread with an anchor by either using a small bead or a large knot. Simply start sewing the two ribbons together by using a running stitch as close to the edge as possible. As you use this running stitch, gently pull the ribbons down the thread to "scrunch" them together creating a ruffle look. Just keep up the running stitch and the "scrunching" method until your lei is as long as you need it. Once this is complete, tie the two ends of the thread together. This can then be hidden by a simple bow tied at the ends or by pushing the ruffles together.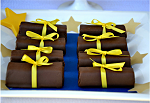 Here's a simple way to add ribbon to the party's décor! Tie small strips of ribbon around rolled wafer cookies or small Swiss roll cakes. These are meant to look like a rolled up diploma or certificate. What a fun and simple idea!
Needing a decoration that will really stand out? This ribbon topiary is sure to do the trick!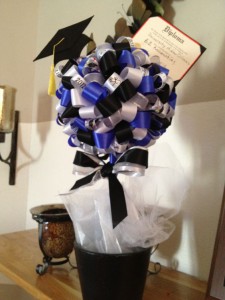 Choose several different ribbon rolls. Use dates on one, names on another and even go with just the colors. You can even use different width to provide a little more depth. Don't over do the variety, but it is key to make this project truly unique. Find a foam or floral ball and dress pins. You will also want a small dowel or a pencil works well. Finally, you will need a base such as a vase, pot or other similar stand that can hold rocks or trinkets to hold the topiary upright.
First, take the ribbon rolls and cut them into about four inch strips. The more strips you have the more the larger the topiary will look. Then start rolling the ribbons so the ends meet. Secure these together with a pin and push it securely onto the foam ball. Just keep this up until the entire ball is covered. Make sure to stagger the ribbons and colors and alternate directions the ribbons are being placed to give it a fluffy look. Add a finishing touch with a bow on the pencil or dowel that has the graduation date.
Personalized ribbons are here to make your life easier!
Choose your colors and text today to make these fabulous graduation ideas!