Show pride in your school with two-color school spirit bows.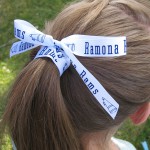 Perfect for school fund raisers, booster clubs, school bands, pep rallies or just for fun. You can use any color combination to coordinate with your school or favorite sports team. Take these school spirit bows one step further by adding a logo, saying or motto as a custom ribbon roll.
Each school spirit bow can be used in many different ways. Use them for chair decorations, hair ribbons or pom-pom accessories. And the best way to use them is by recognizing each student and helping them to develop positive feeling for themselves and the school. By helping all students to know of their worth, school spirit can be developed and shown in everything around the students.
While there are many ways to make and shape this type of bow, this is probably the easiest: Classic Pom-Pom Bows.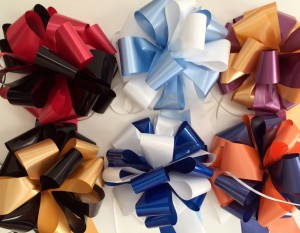 Pom-pom bows are the fullest type of ribbon bows. To make this bow, you will need two very long pieces of ribbon; they will need to be the same length. The longer the pieces of ribbon, the fuller and bigger the bow will be. Start by matching the ribbons together, making sure that each of the ends match up. This puffy bow is then made by wrapping the ribbon around your fingers or another device, such as a ruler. The main point on this bow is that the loops are uniform in size. Start with five or six wraps. To make your bow larger, spread your fingers or use a longer object. To make it fuller, add more loops. After completing the wraps of ribbon, fold the loops in half. Tie the bow in the middle with a coordinating narrow ribbon or wire. Separate the loops one by one to the right and left from the inside out. Twist each ribbon loop toward you as you pull it from the center. Make sure that the colors are alternating in your bow.
While most ribbon will work for this project, make sure to use a ribbon that will be of the appropriate size for your project. The thinner the ribbon roll is, the smaller the bow will be. Also, Floral Satin Acetate ribbon or DYNA Floral Satin ribbon will typically hold the bow shape better than an Organza ribbon or Single/Double Face Satin ribbon will.