Ribbons can be used in a wide variety of ways. Many people have made lists of what one can do with a personalized ribbon, so here is our version. And, while this list doesn't actually reach 101, it is sure to provide inspiration to reach that mark!
Getting Creative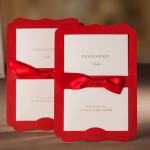 Create personalized ribbon with names or dates for an event, such as a birthday or wedding, and wrap an invitation. You can also wrap this personalized ribbon around wedding or other programs.
Create small tags with a single letter forming a title and use narrow ribbons to attach to a scrapbook page.
Use ribbon to tie tags onto presents or party favors, or wrap presents.
Make a flower with loops or scraps of ribbon and attach a button in the middle.
Use to decorate a yard for a party; tie onto a tree or branch, a porch railing, etc.
Tie up a group of skeleton keys for decoration for a scrapbook or to simply hang on a wall.
Personalized Ribbon Decorations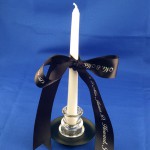 Glue or tie personalized ribbon to a candle or a vase for centerpieces at a wedding.
Use it to tie silverware together for a table setting; even add the napkin underneath the silverware.
Use for embellishments for scrapbooks, smash books or other hand made items.
Use personalized ribbons to hang a locket holding something special or a charm/pendent that has a special meaning. This can be worn as a necklace or hung on a wall for decoration.
Use personalized ribbons with names or a date, and fold around the corner of a photograph to personalize it; secure the ribbon with a paperclip or double sided tape.
Ribbon Wands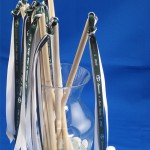 Make ribbon wands using a dowel and tying ribbon strips to the top. These are great for a little girl's birthday party; simple and so cute!
Make a ribbon wreath from leftover ribbon scraps. All you need is a wreath form and simply start tying pieces of ribbon all the way around the form. Slide the ribbons together or spread them apart slightly, but make sure that there isn't any of the wreath form that is visible. Use as many ribbons as you like to create your own look.
Make a ribbon chain for holiday or party decorations. String these on mantles, doors and even a Christmas tree.
Tie personalized ribbon around cinnamon sticks or bags of potpourri for party favors. These can then be placed anywhere that someone would like to smell nice, such as a sock drawer or on a mantle.
Simply put, use personalized ribbons as shoelaces.