From an equestrian event to a school essay contest, all champions deserve an award ribbon!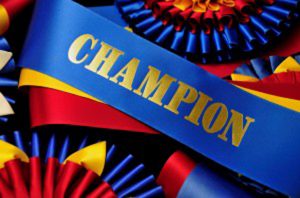 Award ribbons by their very nature suggest that something extraordinary has happened. Whether presenting an award at a student fair, an animal showcase or a sporting event, every award should accurately reflect the achievement. And with that recognition, all champions are sure to enjoy the attention they will receive after getting a special ribbon such as a rosette.
When it comes to award ribbons, rosettes are often the most recognizable and most commonly used. These elegant ribbons have multiple ribbon streamers and fancy points and pleats. And most come with a center button that can be customized to meet any need.
Choose from fancy colors to an even more elegant button and imprint details to make these awards perfect for celebrating any superior achievement. And, with stock and custom options, we're sure to have what you need for your champions.
Customize each ribbon with special text, logos and graphics to represent the award and the champion. Add names, titles, award merits and more to the streamers. Each button has room for a logo or graphic that will match to each of the champions. And, match the colors to any theme or personal taste.
Recognize Achievement at Games and Competitions
Reward game winners and celebrate all champions with these fabulous custom ribbons. These quality designed awards are sure to impress all competitors, and will be a constant reminder of any achievement. And, with an abundance of color and room for a personal message, these rosette award ribbons are perfect for nearly every occasion and event.
Rewarding Every Accomplishment
It doesn't matter if your champions are at work, at school or at home, they all deserve the attention a rosette ribbon will give. High-quality custom ribbons send a clear message of this appreciation and congratulations.