Who needs a garden when you can have flowers all the time?
Spring is in the air, and flowers are blooming everywhere. But, if you're like me, you want flowers all year long. So, here is a quick ribbon tutorial to make some bright, fun flowers that will last a very long time.
Simple Loop Daisies
These fun flowers can be as bright or as mellow as you want them. Choose anywhere from one to three or four colors when you create this masterpiece. These particular flowers were made from 3/8 inch grosgrain ribbons.
Cut each ribbon to your desired length remembering that exterior colors will need to be longer than the inside ones. Using a needle and thread, start sewing these ribbons into small loops. Start by stacking your ribbons with one end of each ribbon lined up square with the others. Once this is done, push your needle through. Then, line up the other ends to create your loop. Repeat this process until you have eight to ten loop sets finished.
Once you have these done, remember to tie off the ends of the thread. Then, apply a little dab of glue to connect the two ends to form the flower. If you want, add a button or other accent piece to the top of the flower to embellish it to your taste!
Knotted Chrysanthemums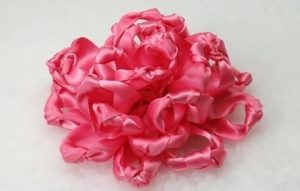 This flower will use about 24 ribbon strips. How full your flower will be is dependent on the ribbon width and length. Start by placing a knot in the middle of each ribbon strip. You can make the knots as loose as you want. Remember that the tightness of the knots will make your flower vary in appearance.
Once each ribbon strip has a knot, form them into loops and either sew or glue them together. Sewing will allow for shaping once the flower is all put together. Continue sewing each ribbon strip to the others until you reach the desired look. And, when that is finished, add any center embellishment you wish.
Ribbon Roses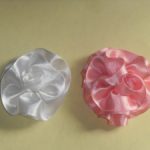 One of the easiest ways to turn a strip of ribbon into a flower is with this rose tutorial. Start with about two feet of ribbon roll. Use a running stitch along one end of the snipped ribbon and down one side of the ribbon the full length. Finish the stitch by running it along the other end and tie your thread off.
Once this is done, tie one ribbon end into a knot and carefully gather the ribbon together around this knot. Then, hold the knot in one hand and wrap the rest of the ribbon length around it. Arrange the folds and petal shapes into the desired effect and sew the bottom of the rose together so it will hold its shape.
Finishing Touches
Add stems to each of these ribbon flowers and put them in a decorative vase to display in your favorite place. Or, add a clip to the back and wear them in your hair or on a lapel. How about using them as table scatter? No matter your choice, each flower is sure to find its place in your home and your heart!