Whether you live in the country, suburbs or city, most people enjoy a good time at their state or local fair. And why shouldn't they? With superb bovines and delectable food dishes, fairs are enjoyable for all ages.
Almost all fairs sponsor competitions for artists, crafters, bakers, gardeners, plant experts, farmers, ranchers and more. Fair visitors learn about agriculture and make connections to where and how their food is grown. Because of fairs, communities come together to celebrate their neighbors' success and compete to see who is the best at their craft. After all, who doesn't want the bragging rights associated with these incredible award ribbons?
Do you know from where those ribbons come?
Here at Personalized Ribbons, we sure do! From traditional rosettes to badge ribbons and from blue ribbons to almost any color you can think of (or at least something to match it).
Rosette Ribbons
You will see rosette ribbons everywhere at a fair. These are the classic fair ribbons with beautiful rosette tops and long streamers. From giant pumpkins and fresh garden produce to cute baby piglets, entering contests at local and county fairs offers the opportunity to test out your new recipe or to become comfortable with your livestock in a fair environment. The rosettes may be smaller, but they are still just as beautiful. There are plenty of stock ribbon titles to choose from, or order rosettes customized with your colors and information. And if we don't have the style you are looking for, we can special order even more styles.
For state and national competitions, order larger rosettes, with multiple layered rosettes in various colors and additional streamers. With elegant tops and long streamers, everyone envies one of these beauties.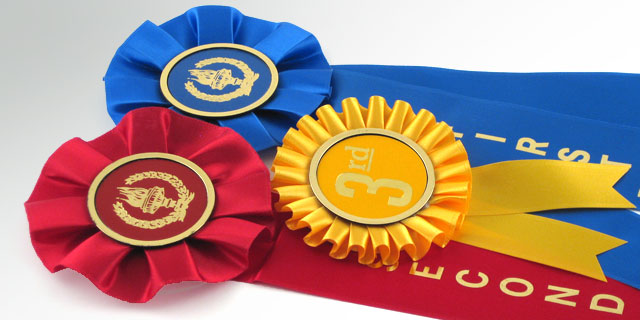 Place titles from first to sixth and six additional titles, including grand prize and best of show.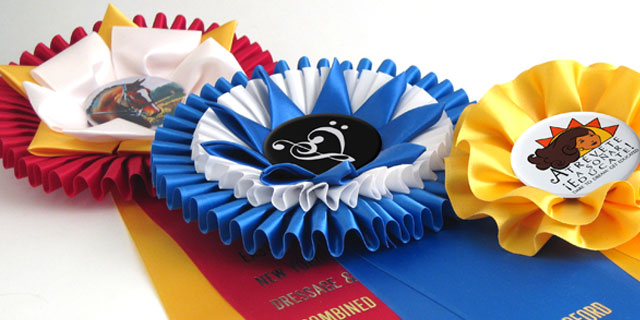 Thirteen rosette styles range from 4″ rosettes to a 6.5″ multi-layer rosettes with 36″ streamers.
Prize Ribbons
Flat ribbons with string hangers and event cards are a low-cost option for local street fairs. Recognize winners in your contests by selecting from a variety of stock styles and titles. If you prefer to create unique awards, custom top ribbons are entirely customized, and the color printing is brilliant. These flat ribbons have also been used as entrance tags and provide something for participants to take home to remind them of their fun.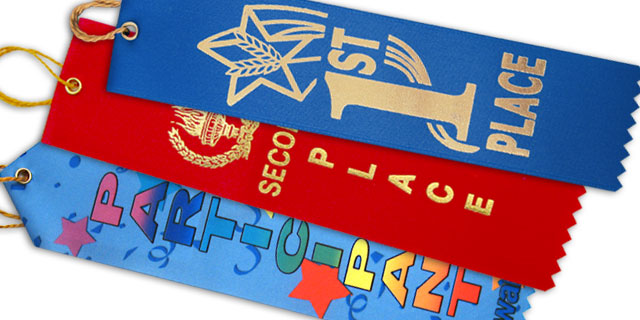 Place titles from first to sixth, and titles including participant and honorable mention.
PRIZE RIBBONS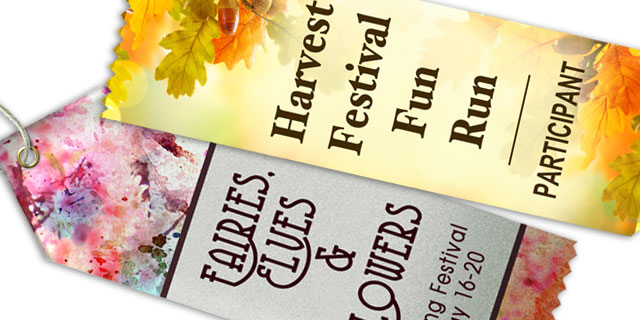 The brilliant color printing will perfectly display your event message.
Badge Ribbons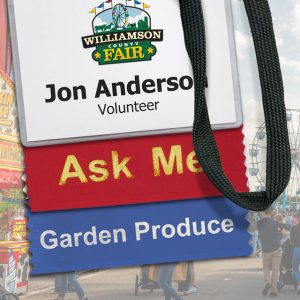 If you use identification badges to distinguish staff and volunteers at your event, adding badge ribbons can help clarify roles and add fun to their experience. Badge ribbons attach to the bottom of the badge holder with available titles such as judge, exhibitor and volunteer. You may also have custom titles printed, and one idea would be to print ribbons with competition categories such as Art Competition, Garden Produce, Animal Husbandry and more.
Ribbon Rolls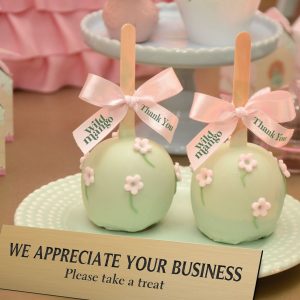 We even have products for the vendors that are at every fair. Are you selling something and want to make sure people remember who you are? Try using custom ribbon rolls in your product packaging. From mason jar products to homemade bread and pastries, a creative bow around each item is guaranteed to make your product stand out to your customers. Ribbon rolls are great for creative decorating as well. Run several ribbons down the length of your show table in the pavilion. Or create something more unique to suit your needs. From table decorations to product displays, ribbon rolls are your go-to ribbon for all your needed decor.
No matter your ribbon choice, from rosettes to ribbon rolls,
you will find a ribbon you need for your next fair or festival!