The printing process for custom ribbons is one of its most important features. While all of our custom ribbons have multiple uses, sometimes you have to know just the right ribbon to choose. And, with different printing options, at times you just need a helping hand to make that decision.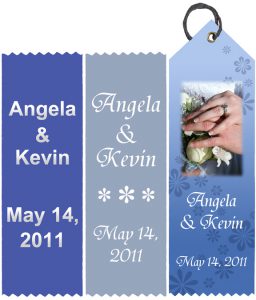 The first ribbon is imprinted with a standard die.
The second ribbon is imprinted with a metal die.
The last ribbon is printed in full color.
When a ribbon is imprinted, it means that a stamp is pressed onto a thin foil against the ribbon. Heat is applied and stamps this colored foil onto the surface of the ribbon. Because of this stamping process, imprinted ribbons will not hold fine detail. Keep your graphics and text a bit larger so that details don't get lost in the printing.
A plus to imprinting is that you can have metallic printed onto your custom ribbons. This means that they will sparkle and shine. The metallic foils will help others to see what is imprinted on the ribbons. Imprinted ribbons are perfect for any fair, sporting event or other achievement days.
These custom ribbons allow for a multi-colored background instead of a solid color like imprinted ribbons. However, no metallic printing is available. But don't let that discourage you. Print these full color ribbons with almost any design you want! And because of the printing, the ribbons capture detail finer than what imprinting will hold, so you can do whatever you need to with your text and graphics.
From prints that include a bleed to bright and eye-catching designs, these custom ribbons are sure to get your message out there! These ribbons are a great way to promote a special day, promotion, sale or any other event.
So, if your next custom ribbons project is something simple and plain to go with a name badge, imprinted ribbons are for you. These are also ideal for quickly identifying someone's role during an event.
However, if you need something that will stand out in a crowd, make sure to choose a full color ribbon instead. With all the color and printing options of full color, your ribbons are sure to be the hit of your conference!