Kissing balls, also known as pomanders, are perfect for an alternative bouquet for bridesmaids.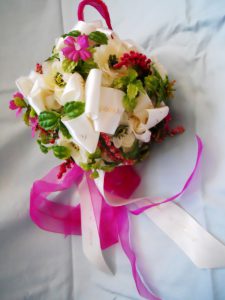 Traditionally, kissing balls came from England during the Middle Ages. They are a symbol of goodwill. They were hung over doors to welcome visitors and celebrate Christmas. However, these decorations eventually became a symbol of romance and eventually became a favorite wedding tradition.
Use these hanging floral arrangements to dress up the aisle at your wedding. Or, use them as an alternative bouquet for flower girls and bridesmaids. Some brides even opt for using pomanders as a bridal bouquet. They are also beautiful when arranged from a doorway or arch.
And, pomanders are easy to make with silk flowers, fresh flowers, or even from tissue paper.
HOW TO MAKE A KISSING BALL

First things first, make sure to have all your materials gathered! You will need:

Foam Ball
Flowers (you can use real or artificial)
Personalized Ribbon
Wooden Skewer or knitting needle
Hot Glue

Now, the assembly!

Gently push the skewer through the top of the foam ball. This action will cause it to go in one side of the ball and out the other. Once this is done, thread the personalized ribbon through the ball using the skewer or a knitting needle.

Next, gather all the flowers without stems together. You will need roughly 38 flowers to cover a 4 inch ball. Put a dab of hot glue on the base of the flower and gently push it into the foam ball. Repeat this step until you cover the ball in flowers.
Play with colors and layout with different flower types. We also added some extra ribbon among the flowers for a personalized touch. You can also add additional details like beads or crystals in between the flowers. Or add another decorative piece at the center of each flower. By using artificial flowers, these balls will last a very long time.
Kissing balls made with real flowers are just as easy to make. Make sure to use a floral foam ball instead of Styrofoam. Cut each flower with about a one-inch stem to insert into the ball. Be gentle so as not to damage the flowers. And, keep in mind when using fresh flowers that the pomander will not keep as long and should be used within a couple of days of making them.