Create something unique using chiffon organza ribbon rolls.
Not all ribbon rolls are created equal. Often overlooked because of their sheer quality, chiffon organza ribbons are just as useful as any other ribbon.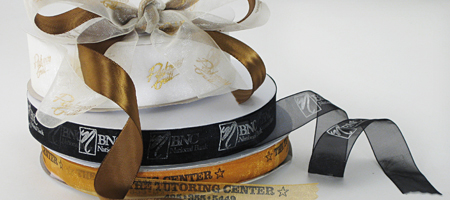 From celebrations to awards, all ribbon rolls are extremely versatile. Customize a ribbon roll with a personalized message such as names, dates or a special sentiment. Use them for gifts, decorations and other fun DIY projects for your next party.
While this chiffon organza ribbon is a bit harder to work with than other ribbons, the sheerness makes it a unique choice. The lightweight, open weave of this ribbon looks fantastic when used for wrapping gifts and creating decorations.
This ribbon roll type is lightweight and translucent. These ribbons are one hundred percent nylon and are a unique choice for ribbon rolls. Due to its lightweight quality, it provides an elegant, iridescent finish.
"A solid color layered under can make the color stand out. A darker color of satin under the sheer makes the color pop a lot better," says Traci, our Assistant Customer Service Manager.
Using a lighter color satin ribbon under a sheer organza ribbon is perfect to show any and all imprinted text. The sheer nature of this ribbon allows what is behind the ribbon to show through softening the customized printing.
These paired ribbon combinations are ideal for presents, floral arrangements and wedding decorations.
For each of these options, a personal touch of names or dates is perfect. One of the best uses for this ribbon type is wrapping gifts. Use bright, off setting colors of wrapping paper to set off these ribbon rolls.
Chiffon organza rolls are perfect for weddings as well! From kissing balls to guest favors, match almost any color scheme with these unique ribbons. Pair them with centerpieces, floral arrangements and other decorations at any event.
Whatever your use, chiffon organza ribbon rolls are a great solution for any need.