School is out, and summer is here.
Are your kids ready for all the fun and excitement that comes with this time of year? Are you? Here are some tips to keep all of your kids, no matter their age, engaged and active this summer.
Help your winner feel extra special with an easy DIY ribbon display.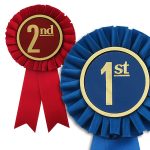 Did your child win a ribbon at a school field day? What about winning at a sporting event or academic event such as a spelling bee? Help them with creative ways to display their awards.
Find or create a unique frame that suits the award. A fun idea would be to add trinkets, pictures and other items that will remind the recipient how and what they won. While the colorful ribbons will draw the eye to the frame, the other pieces will keep attention and provide any continued recognition that might still be coveted.
Another fun idea would be to use a long strip from a ribbon roll and tack it to a wall. Once this is set up, drape any award ribbons from it to create a unique wall hanging. Or, fasten each award ribbon individually to a bedroom wall and decorate with stencils around the ribbon.
Getting kids involved in a summer reading program.
Check out your local library for some ideas and tips to get your kids reading. But, for now, get them excited with personalized, colorful ribbons. Have your kids create bookmarks with ribbon rolls, or get creative yourself with badge and full color ribbons.
And, don't forget the awards. Everyone wants a fancy award for something they did great at, and be sure to include your kids! Make sure to award good reading habits during the summer with rosette ribbons or fun badge ribbons. Give them a reward that says "congratulations" or "good reader," or create a unique saying.
Remember that when you are selecting prizes and rewards to use for a summer reading program, make sure they are both diverse and as inclusive as possible. Make sure to know how tactile your prize needs to be; if the reward ribbon is high in contrast, it will better suit a wide age range.
And, don't forget kids need to have some fun both indoors and outside!
Using colored craft sticks or shower curtain rings, help each kid make a ribbon wand. Either glue or tape ribbon strips to one end of each stick or tie them around a ring. No matter the child's age, they are sure to enjoy running around with these brightly colored toys.
Or, make awards using personalized ribbon rolls made into a lanyard. Then, attach a candy bar or other treat at the end for a medal. Make sure to choose treats and ribbons that will make all of your participants covet this award. Then, give these awards out for completing both indoor and outside activities. Make them run an obstacle course in your backyard. Or have them help around the house to keep things neat and tidy.
Do you have any other ideas on how your kids can benefit from ribbon use this summer?