We've said it before, and we're happy to say it again: ribbons are the perfect thing to help you celebrate any event. And that still goes for all of your autumn festivals! From ribbon rolls to badge ribbons, we have something to meet your every need.
Starting your autumn festivals off right can take a lot of work, but with the proper planning, ribbons can make it easier. From festive colors and messages to how you use these wonderful tools, we guarantee that ribbons will make your festival better.

Ribbon Rolls for Autumn Festivals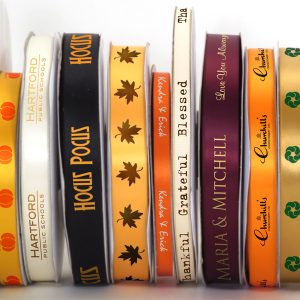 Choosing the right color is the easiest part! Whether it's brown, orange or yellow (or any other color your event desires), we have the colors to get you going on the right path. Add messages that support different booths at your festival or add messages that go with packaging for goodie bags that you hand out to festival goers.
Ribbon rolls are also perfect for decorating! Give them to your vendors, volunteers and staff to decorate their spaces and make your event more festive. These ribbons will truly go the distance for your every need during your Autumn festivals.
PRO TIP: Create a custom photo booth backdrop with lengths of ribbon rolls tied into a banner that feature the date and theme of your festival.
Badge Ribbons for Autumn Festivals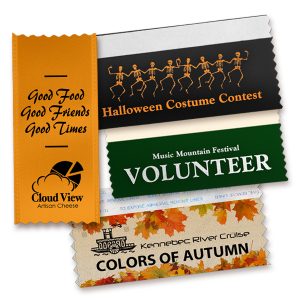 Invite festival goers to participate in your event by providing them with colorful badge ribbons with messages about what is happening during the festival. From costume contests to making sure that your volunteers are highly visible, badge ribbons are one of the best tools that you can use during your Autumn festival. Even match your colors to your booths or other vendor spaces!
One of the best badge ribbons is our full color version. These ribbons make it so that you can use bright colors as well as a bleed. This means that you can add nearly any messaging and graphics that you need to make your event special. Choose either vertical or horizontal ribbons to best fit your ribbon needs.
PRO TIP: Add badge ribbons to badge holders or name tags to help identify your staff and other volunteers at your event.
Custom Top Ribbons for Autumn Festivals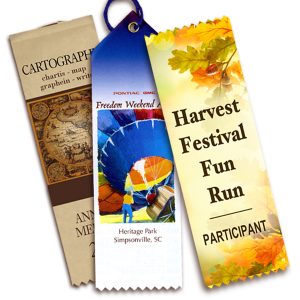 Add any message you need to these bright and full color ribbons to help your staff and attendees have fun during your Autumn festivals. Whether you need an award or something to give to people to remind them of the upcoming dates for your event, custom top ribbons are here to help.
One of the best features of these custom top ribbons is that you can either attach one to a name tag or give one with a record card that is personalized for any award. No matter what you choose to use custom top ribbons for, we guarantee staff and everyone who attends your Autumn festivals will remember your fun event because you have given them such a treasure to take home.
PRO TIP: If you have chosen to have contests at your festival, personalize custom top ribbons for each winner. Add the date and theme of your festival with the award placement for a unique trophy.
Personalized Ribbons for any Event
No matter how you choose to use any of these custom ribbons, remember to think outside of the box! Ribbon rolls don't just have to be tied around a centerpiece to be useful. Badge ribbons don't just have to be added to name tags and used for identification. Custom top ribbons aren't just for awards. We're curious to see how your outside of the box thinking goes. So, comment below and let us know how you used your ribbons!