Commitment & Prayer Ribbons
Ribbon rolls play a vital part in a lot of different parties, festivals and other events. Our ribbon rolls are the perfect add-on for your summer celebrations, from different colors to creative and custom imprinting. And, these celebrations don't always have to include being jovial. Use them for far more than you anticipate during these summer months.
Commitment Ribbons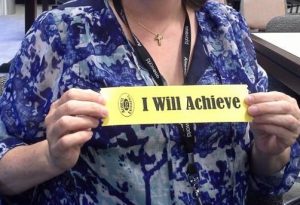 From weddings to remembering those who have passed, commitment ribbons are an all-inclusive way to celebrate people. By tying colorful (and sometimes imprinted) ribbons around the hands and wrists of two people in a relationship, they are committing to each other that they will stand by the other's side. And, at the same time, you can tie these personalized ribbons around objects to signify the remembrance of a commitment made.
Awareness ribbons are meant to show support or raise consciousness for a cause.

Different colors and patterns are associated with different issues. Many advocacy groups have adopted ribbons as symbols of support or awareness. Awareness ribbons date back to 1917 when the yellow awareness ribbon showed up to support US military while serving abroad. Since then, we use different ribbon colors for a variety of causes and symbolize various concerns depending on the color and pattern.
Commitment ribbons are also given to those who participate in groups and clubs to remind them why they belong. Service projects, raising animals and helping others are all great causes to use these wonderful ribbons.
Another way to use commitment ribbons is by giving them as colorful reminders of a job well done. Many people appreciate the thoughtfulness of a personalized ribbon when it is presented to them for their accomplishments. Choose your color and message and add them to any of our continuous ribbon rolls for easy and quick acknowledgments.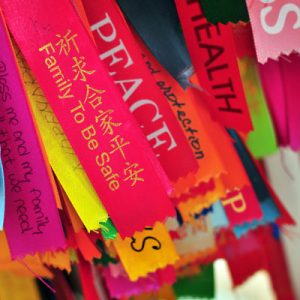 These ribbons, often referred to as prayer ribbons, are based on Native American, Tibetan, Siberian and other indigenous traditions. In these cultures, it is believed that everything that is alive has a spirit and everyone lives in partnership with all things. It is believed that all of life is connected to a web of life; this includes cooperation and partnership. It is important to honor and respect all of life that is connected to this amazing web.

While prayer ribbons typically have religious undertones, they don't have to. Many chose to participate in writing prayer ribbons as a way of helping with goal setting and recognition of a job well done. While most prayer ribbons include things such as prayers for families, food for the needy, more faith in God, and other priorities in schools and communities, they range from personal needs to community related projects.

Even though there are many interpretations of ribbon colors, everyone can understand the importance of recognizing them. From family reunions to corporate events, these ribbons are a great way to remind others about the importance of caring.
Personalized ribbon rolls are perfect for any event. Order printed ribbon with your custom message for wedding favors, baby and bridal showers, birthdays, anniversaries and more. Add your logo or artwork for product branding, traditional gatherings, corporate advertising or retail packaging. No matter the event or purpose of your ribbon needs, we guarantee we have what you are looking for.