Decorate your own blank badge ribbons to meet any need!
Sometimes you just need a plain, flat, colored ribbon. This is where custom blank badge ribbons come in handy. These ribbons can be used in most any way, and here are a few suggestions.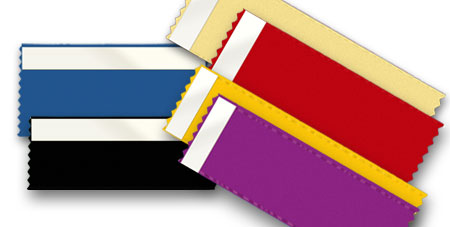 With the abundance in color variety, these badge ribbons can be used to differentiate between attendees at a convention or students in a classroom. Give orange ribbons to volunteers at a conference and purple to attendees. Use the different colors for different assignments in a classroom. Or stack the colors for different achievements in any setting.
Blank badge ribbons are perfect for crafts and scrapbooks. DIY projects may need a little extra color and these ribbons are a great way to add it in! Use the adhesive to attach the ribbon to a scrapbook page. And then write on them with a permanent marker to personalize it in any way. Attach ribbons to picture frames for a bright embellishment. Use your imagination and get as creative as you need to!
One of the most obvious use for badge ribbons is name badges and badge holders.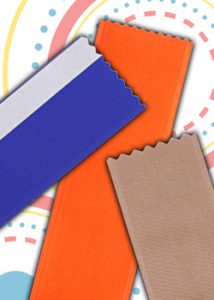 Use these colorful ribbons to help your brand stand out from your competitors. Use the adhesive strip to attach them to the bottom of your name tag at a conference or convention. Or just use around the office. Each ribbon is useful for handing out to employees or customers. Use these ribbons in contests or give-a-ways that your company might have.
From family reunions to summer work parties, another great use for these blank badge ribbons is party games. Use the different colors for different games or organization during the festivities. Design your own game using badge ribbons and either focus on the colors or write on them with a permanent marker.
Whatever your use, blank badge ribbons are the perfect solution. And the best part is that you can order yours today! Choose from over 30 colors and 2 orientations at Personalized Ribbons.