Wedding season is quickly approaching once again!
Are you ready for your special day?
There are so many things to anticipate and plan for when dealing with wedding preparations. From the cake to invitations to decorations, don't fall short on your details when making everything perfect for that big day. There are so many ways to incorporate personalized ribbons and identification into most details of the day. Here are some great ways to use some of our products in ways that you haven't yet considered!
We all know that ribbon rolls are great for so many uses. From decorations to invitations to even the cake, ribbon rolls are very versatile!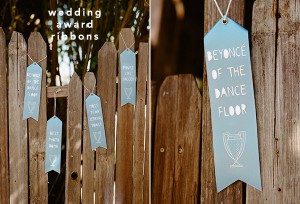 Use these full color ribbons for almost anything at any wedding! As a simple invitations, these ribbons can be customized with dates, names and other information a images. Use these as place holders during dinner or at your reception. Have a contest for the best dressed or the best dancer. Make up your own custom ribbons or simply go for imprinted place ribbons.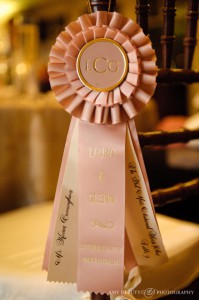 Now here's an idea that most people don't think about. Order a custom rosette ribbon with your date, names and any other details you want to include. These can be given away as trinkets to commemorate the day or even worn by members of your wedding party instead of boutonnieres or other flowers. Rosette ribbons can also be used as place markers for seating arrangements or for a unique decoration for themed weddings.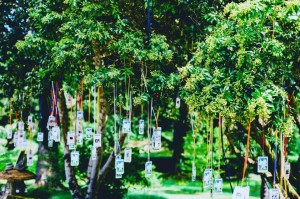 Looking for that one creative way to help your guests find their place at the table? This unique idea incorporates custom lanyards and name badges. While this shows the place settings hanging from trees for the guests to find their names, they may also be spread out on a table. Simply choose a lanyard in your wedding colors and grab a handy badge holder to display people's names and seating placements.
Whatever your choice, remember that ribbon rolls are great, but not everything.
Use most any personalized ribbon for your big day and make it one to remember!