Make your flowers stand out with a personalized ribbon!
Due to the recent seasons being quite wet, there is now an abundance of flowers in nearby meadows, fields and gardens. Flowers are always a great idea to either bring into a home or give as a thank you or a just because gift. Once you choose the right flower, dress it up with some personalized ribbons!
From the beginning of recorded history, flowers have been assigned special meanings and significance. The symbolic use of a flower is mentioned in Egyptian inscriptions, Chinese writings, and in Greek and Roman mythology. Subtle and secret messages can be given by choosing a flower carefully. Flowers were used throughout history as a secret language that enabled people to communicate feelings that were not allowed at certain times and places. Other factors to consider when giving flowers include color and number.
Nowadays, it has become almost a norm to give flowers for certain occasions. Weddings still dominate this category, but they are good for funerals, birthday gifts, anniversary gifts, and many more. Once an appropriate flower is chosen, such as a bunch of a dozen red and white roses for your significant other on your anniversary, choosing the right ribbon is fairly simple.
When choosing the ribbon to match the flower bouquet, make sure that your colors compliment each other well. You don't want to choose a bland ribbon color to go with bright flowers.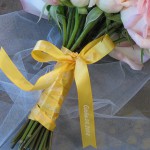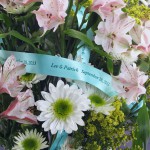 One idea is to wrap the stems of pink roses with yellow or gold ribbon. When choosing the printing color, make sure that compliments the arrangement as well. Make sure your ribbon choice helps the flower colors to really pop and stand out.
For some flower bouquets, use a neutral color for your ribbon. Try a white or tropic blue with metallic green printing. Can't decide how to personalize the ribbons to match a flower? Try using your name or provide a date that the present is being given upon. Or, use a short phrase or logo to really make them personal.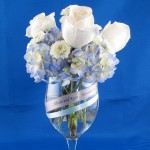 No matter what the occasion is, when the urge hits to give someone flowers, keep in mind to never just steal them from your neighbor's garden! Put some thought into the arrangement and make it a personal gift that will mean something for a long time with thoughtful personalized ribbons.