What is company branding?
A company's brand is what they are, what they want to be, and what they aim to become as a whole. It can be a promise of quality, trust or service. A brand is what makes a company or organization truly unique. Branding should make any company stand out from its competitors and lets the consumer know what to expect from that company.
Branding is one of the most important parts of any business, whether it be large or small. Building a strong brand helps a company or organization be financially strong. Product marketing is really where this process all begins.
In order to be successful in marketing a company's brand, one must have a strong branding or marketing strategy. To determine the brand of a business, one must identify a target market and the product or service distribution means. By doing so, the organization can communicate the brand to this target market. And with the use of personalized ribbons, a company's brand will truly stand out. Personalized ribbons are truly a great tool in company branding.
A few things to consider when working with an organization's brand: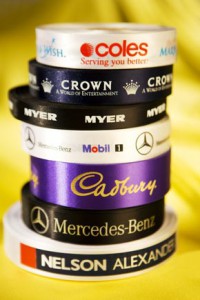 Brand Identity: This is the customer's knowledge of and ability to recognize the brand.
Brand Meaning: This is the character of the brand beyond the image, and includes product or business features, reliability, value and experience.
Consumer Relationship: This is the attitude of the customer toward the brand.
Remember that a brand is the means to communicate with a chosen market. Each brand needs to be visually stimulating, thereby encouraging product loyalty. Carefully designed branding leads to a secure business or organization. An organization's brand should posses the above characteristics.
Most of our personalized ribbons can be printed with a company logo and each ribbon has its own value. Ribbon rolls are great for corporate gifting and event decoration. Badge ribbons can be used not only on badge holders and name tags, but for awards, bookmarks and other recognition pieces. Rosette ribbons are commonly used for awards and can be used to highlight accomplishments in an office or business setting.
An organization's brand serves as a promise to the consumer. Whether this promise is of services or product, remember that the brand will be used in a marketing strategy and requires copious research. Consumers must understand a brand to increase the effectiveness and value for the company.