Ideas such as corporate gifting are amazing ways to get your brand recognized.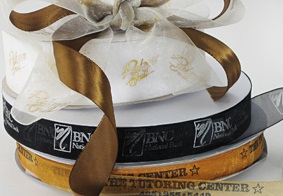 And, the best way to accomplish brand recognition is with personalized ribbon rolls. From adding your company mission statement to finishing a ribbon with your logo, any company knows how important branding is. And, once you have those branded ribbon rolls, here are some amazing ways to use them.
Wrapping & Corporate Gifting
It's no secret that ribbon rolls are the perfect accent to any gift! And once they are personalized with a company logo, there's no stopping them. So, pull out your ribbon roll and start smothering your corporate gifts with them. From show-stopping bows to a simple strand wrapped around some colorful paper, your branded ribbon is sure to please any recipient.
Because of the branding, each recipient will always remember where they got that amazing gift. So, no matter what your corporate gift may be, don't forget that ever important ribbon.
Corporate Get-Togethers & Other Events
Do you have a summer event planned for your company? Don't underestimate the power of branded ribbons for your decorations. Even though most company events are for employees and colleagues who already know your brand, others may still see your decorations. So, keep your decor branded with easy-to-use custom ribbon rolls.
From table centerpieces to picture perfect selfie props, colorful imprinted ribbons are the ideal accessory. Even wrap them around cutlery for summer picnics or a more formal corporate dinner. And, they are perfect for tying up a small bag of goodies for each person to take home. At that point, your branding has even more power because the friends and family of each employee will be able to see your message on each ribbon.
Marketing & Company Promotions
Most businesses understand that branding and marketing go hand-in-hand. However, there are some things to consider. Even large companies use custom ribbon marketing. Promoting your brand with personalized ribbons is almost a must in the world today. From wrapping a purchase at a large department store to sending out event invitations, every business can, and should, benefit from using ribbon branding.
So, no matter your need, remember that custom ribbon rolls are amazing for branding!