It's never too early to plan for your Christmas and holiday ribbons, and July is a great time!
Yes, we just said Christmas, but we also know how commonly ribbons are used during the holidays. From wrapping presents to decorating for a holiday party, ribbons are essential. And, although it may be only July, it's always a good idea to get your ribbon order in early.
Add names, dates and many more details about your holiday plans to each customized ribbon choice. From ribbon rolls to rosettes, use all of our ribbons for Christmas and other holiday needs. And, here are some great recommendations for your ribbons.
Use ribbon rolls for more than wrapping.
Yes, ribbon rolls are perfect for making every present under your tree sparkle with personality. However, there are so many other uses for these fantastic ribbons. Use them for decorating the tree to adding charm to any other decor around your home; personalized ribbon rolls are advantageous for many uses.
And, don't just limit your ribbons to decorating for the holidays! Red, white and blue ribbons are perfect for July. So while it isn't for your Christmas needs, July holidays count too. Then reuse those red and white ribbons for your holiday fun.
From rosettes to badge ribbons, everything can be just as festive as you are.
While rosettes are used for fair and festival awards during July, they are just as useful during the holidays. Rosettes are a unique way to decorate. Use them on your tree or for unique markers for stockings and table settings. Rosettes are a classy way to let someone know you care.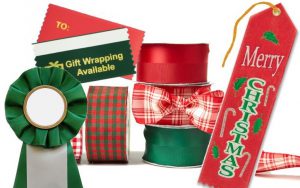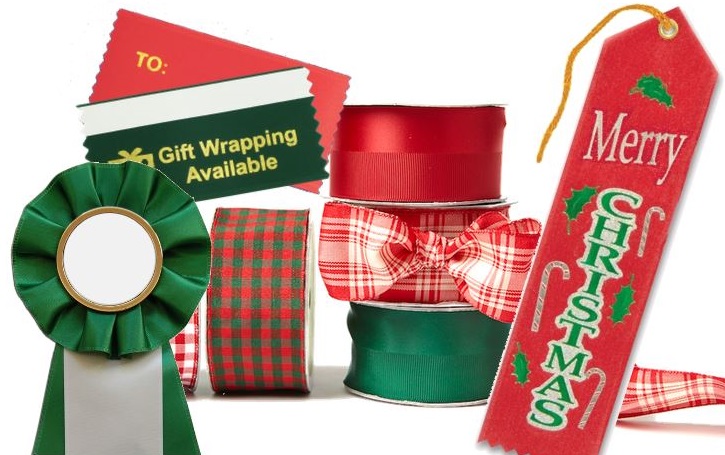 And, badge ribbons are perfect for almost anything! Use them as name tags on presents or make unique additions to a table centerpiece. And, blank badge ribbons are great for holiday parties and other events. Have guests write on them for games or have raffles with these fun ribbons.
But no matter what your July brings, don't forget to get a jump start on your ribbon order!