How many of us have extra buttons laying around the house or a craft room?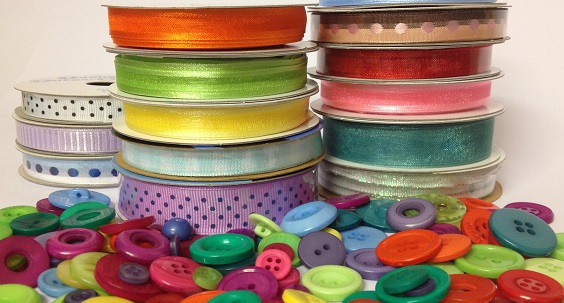 From buttons, ribbon pieces, leftover lace, scrapbook supplies, and other items that we think we'll use eventually, most craft rooms aren't complete without a collection of odds and ends. These items were probably purchased for other projects that ended up not using everything purchased or not using them at all.
So, what do you do with all those leftovers? You can't return them and you don't feel right throwing them out. Do you recycle them or give them away? Nope, keep them! You might eventually use them, right?
Instead of collecting piles and mounds of these leftovers, throw them into your next project! From hair ribbons to bookmarks to jewelry, buttons and ribbons are great for any project.
Does someone you know have a birthday or other celebration coming up? Make them a homemade card with buttons and ribbons to acknowledge them on their special day. Follow up with a specialty ribbon medal made with those leftover pieces as a wonderful and personal gift.
Need to update your style? Take that old worn t-shirt out of the closet and add buttons and ribbon in complimentary colors to the hem or front, or back for that matter. Use your imagination for this project to truly make your wardrobe unique.
Need a great piece to put with that fabulous new outfit? Match ribbons and buttons together to make wonderful one-of-a-kind jewelry; from earrings to bracelets and everything in between.
Don't know what else to use these odds and ends for? Create your own project, such as a button and ribbon bookmark or hair bows for your kids. Or simply wrap the next gift you give with colorful buttons and ribbons. Let your imagination dictate the direction you take, and remember "the sky's the limit!"