Coller Industries Incorporated has many wonderful customers. We work hard to make sure everyone gets quality name tags and personalized ribbons. Sometimes, we are able to take the time to especially recognize one of these wonderful customers by making a donation to their personal identification needs. We love donating time, products and ideas to these companies and organizations. This month we were able to provide a donation to The Durham-Orange Genealogical Society (D-OGS).

According to Holt Anderson, D-OGS Charter Member, D-OGS is "an active genealogical community dedicated to the research and preservation of family history of Durham and Orange counties in North Carolina. We provide research assistance and educational opportunities to our members and the public through outreach programs, monthly meetings, newsletters and forums. We meet once a month to hear speakers on topics about general research techniques, North Carolina maps, Indian Trading Paths, cemetery records, advances in technology, DNA results and so much more."
The Durham-Orange Genealogical Society primarily focuses on family history research. They hold meetings on the first Wednesday of each month and these meetings are free and open to the public.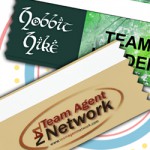 Badge ribbons were made with the "distinctive D-OGS logo," said Anderson, "so that members who are attending large, and sometimes statewide or national, meetings can be identified (quickly)."
Anderson's hope is that by wearing these name badge ribbons, "It will help to foster fellowship and promote the organization to prospective members."
Name badges are an important part of any large meeting. They help to identify the wearer to everyone around them. By adding a badge ribbon, such as a Full Color Horizontal Badge Ribbon, one can be identified with more than just a name or a title. Badge ribbons can be used as awards, recognition for an achievement, or in a fun way with a silly title or message.