With the current trend being pumpkin spice, everyone knows Fall is on its way!
Every season and holiday deserves some fun with ribbons. That being said, Fall is no exception to this! Here are some past and current ideas to get your creativity flowing with all of your festive Fall ribbons.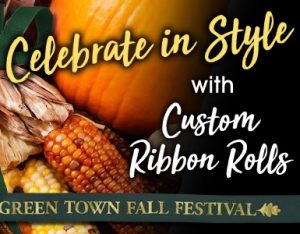 No matter what you are celebrating this Fall, custom ribbon roll decorations are a must. Make everything from weddings to festivals better with Fall ribbon roll decorations. Whether you are hosting a company party, Fall Festival, bridal shower or wedding, custom ribbon rolls have you covered. Use them to accent centerpieces, wrap party favors and create ribbon garlands or chandeliers. Not only do these ribbons come in Fall colors, but they let you add your personal touch with custom names, graphics or logos. From double face satin to organza, we have the ribbon rolls you need to impress your attendees.
Decorating Your Home
Christmas, Easter, Halloween, St. Patrick's Day and Valentine's Day are all great ideas to display themed candles. Use a color theme that will help them stand out. And, personalize them with sayings, greetings or names to make them unique.
Do you have a pool noodle or two that are falling apart from summer use? Here's a great idea! Use one to form a circle and create a door wreath with festive colors. Make it unique by using different types of ribbons such as organza or grosgrain. These ribbon rolls are sure to make an impression and leave your guests a little bit jealous; you might have to give them your secrets to amazing Fall decor.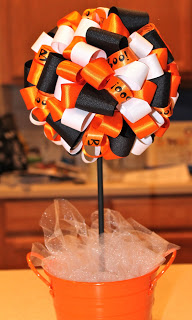 (These faux trees) are fun to decorate with as well. First, choose several different, festive ribbon colors. Find a foam or floral ball and dress pins. You will also want a small dowel, or a pencil works well. Finally, you will need a base such as a vase or other stand that can hold the topiary upright.
Cut each ribbon piece into approximately four-inch strips. The more strips you have, the larger the topiary will look. Then start rolling the ribbons, so the ends meet. Secure these together with a pin and push it securely into the foam ball. Cover the entire ball with these ribbon rings. Make sure to stagger the ribbons and colors and alternate directions the ribbons are being placed to give it a fluffy look. Add a finishing touch with a bow on the dowel that has a spooky message.
For your holiday parties, don't forget your award or badge ribbons. Maybe even incorporate the ribbons into your costume! But make sure those who attend your party know how appreciated they are with awards for everyone. From "Best Dressed" to "Spookiest Costume," create exactly the awards you need. Or, go for a blank badge ribbon and make the whole thing up as you go.
Making Your Office Ready for Fall
Decorate your office door with fun, festive ribbon rolls. Choose from your favorite Fall colors such as Torrid Orange, Scarlet, Willow and more. Or use traditional brown, black, orange and green. No matter which colors you end up choosing, make sure to have fun, and set your creativity ablaze with these fun ribbons. Create a draping or curtain effect or weave the ribbon rolls for fun designs.
Use badge ribbons as gift tags on treats for employees, customers and other visitors you might have. Or, use custom top ribbons to announce your Halloween office party. Is your company having a costume contest? Rosette ribbons are perfect for that first prize winner.
Get your colleagues into a festive mood with new badge ribbons for their name tags. Translate their job titles or functions into something Fall themed to have imprinted onto ribbons. Your sales team could now be the Acorn Gatherers or your customer service representatives can now be part of the Cornucopia Team. Get creative and give your clients something new to smile about.
But, no matter what you decide to do with your fall ribbons, don't forget to share your ideas with us!