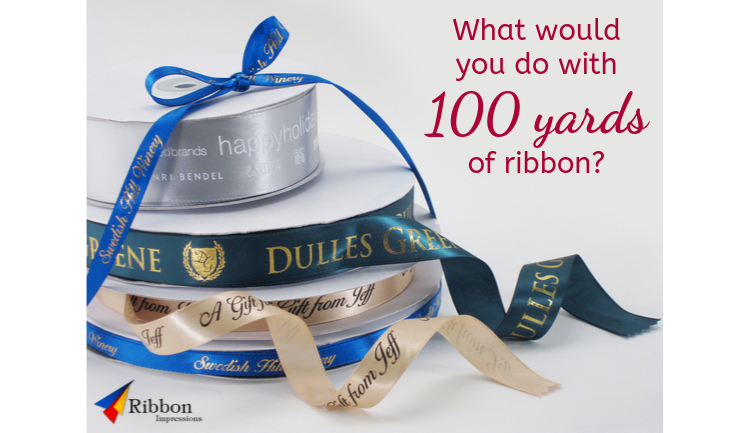 100 yards of ribbon = 300 feet = 3600 inches
Wow! That's a lot!
Now, if you're hosting a significant event like a national conference or a large convention, the answer for using 100 yards of ribbon is easy. However, if you order ribbons for a smaller occasion, such as a department party or small corporate meeting, using all of the ribbon might seem a bit daunting. While the ribbon will last for a very long time, maybe you don't want to store it.
So, now the question is, how do you use all 100 yards of ribbon?
We offer two different types of ribbon rolls, continuous print and favor printing. And, all of our rolls come with 100 yards of ribbon. Here are some fabulous ideas to use that roll up to the last inch!
Repeated text and logos along 100 yards of ribbon roll.
With a logo and text imprinted in a continuous print along the entirety of 100 yards of ribbons, your imagination is the only limitation. While the imprinting process may limit the graphic or logo and text you can use on the ribbon, the continuous printing allows for multiple uses for your ribbons.
Gift Bows, Single-Use Shoelaces and Awareness Ribbons
From corporate gifting to small individual presents, gift bows will make any gift more personal. And, with custom ribbons, this personality increases. Small bows, like a simple gift bow, take typically about 20 inches of ribbon. Large gift bows can take up to 48 inches of ribbon to make. With these calculations, your 100 yards of ribbon will make approximately 75 large bows.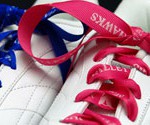 Making shoelaces for a corporate event can be fun. The standard lengths vary per shoe (depending on how many eyelets the shoe has). The average length is about 60 inches, meaning that you can lace nearly 30 pairs of shoes. That should be enough to outfit a small office with a fun and unique way of showing off your brand at your next corporate meeting. (Please note that if used more than once, the imprinting will start to rub off.)
Perfect for showing support or collecting donations, awareness ribbons are a great way to use all of that ribbon roll. And, with continuous roll printing, you can control where the printing will occur and be able to use the 100 yards to it's greatest advantage. For three-inch awareness ribbons, you will need to cut each ribbon to about nine inches. This will make your roll last for about 400 ribbons! Think about all the support you can show with that many ribbons.
Print your text and logo so they will only show on the ends of a cut strip from the 100 yards of ribbon.
This ribbon type is just as useful as continuous printing. Favor printing provides a large gap between where the text and logo are printed so it can be tied around something, but you can still see the imprinted information.
Favors, Single-End Awareness Ribbons and Party Decorations
If you are giving away door prizes or gifts to every person who attends your event, these ribbons are here to do you a favor (pun intended)! By using ribbons with favor printing, you can easily tie them around goody bags and other quick gifts to provide attendees. Wrap them around a bag full of candy and cut the ribbons so that only the ends show printing. This effect highlights your branding on the ribbon and lets your guests quickly remember where they got the present.
Each favor printed ribbon section will vary depending on what it is being tied. On average, if you use 18 inches per ribbon (this includes two tails with six inches of imprint and the six-inch blank space between them), you will get about 200 strips total. While these measurements will not fit every project, you can use the approximations for nearly every gift you need to provide.
While both ribbon types can be used for party decorations, favor printing allows for a cleaner look to the finished product. When tying a continuous print ribbon around something, your text will show all the way around and go into the knot and bow. Favor printing gives the look of a neat, clean bow with the text only showing at the ends of the cut ribbon. Even if the object you are tying the ribbon around is bigger, you can manipulate the ribbon to display the text exactly where you need it.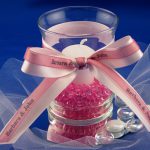 For example, if you are tying the ribbons around votive candles, you need approximately 28 inches per candle. When setting up this ribbon length, this should include the minimum of the blank six inches between text, up to six inches of imprinting and a small, two-inch bow. This will yield about 128 candle holders.
So, when you think about it, 100 yards of ribbon is easily used for any event!
Please note that all numbers used above are approximations and based on minimum printing requirements for each ribbon type.