From ribbon chains strung around your house to a ribbon wreath on your front door, let's make your Halloween festive and fun with personalized ribbons!
It doesn't take a lot to decorate for Halloween these days. Find some cobwebs and a witch's hat, and you're pretty much set. But, let's go a bit beyond the norm and find a use for all those festive and fun holiday ribbons you have laying around your house.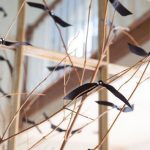 Here's a fun decorating idea! Do you have potted plants or scraggly trees? Tie a simple black ribbon around a branch or twig and add little white dots for eyes. It's an instant bat!
Treat tags made from badge ribbons. Choose a spooky color to make your trick-or-treat bags festive. Just add text with a Halloween message, and you're all set. Wrap up caramel apples, candy treats or other homemade goodies in a bag and secure them shut with the badge ribbon.
Needing a decoration that will stand out? This ribbon topiary is sure to do the trick (pun intended)!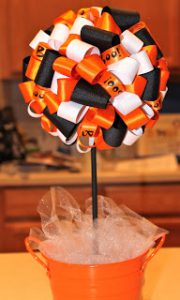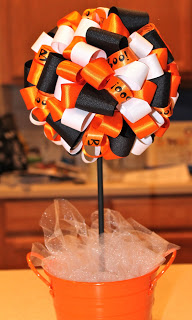 Ribbon topiaries are fun to decorate with as well. First, choose several different, festive ribbon colors. Find a foam or floral ball and dress pins. You will also want a small dowel, or a pencil works well. Finally, you will need a base such as a vase or other stand that can hold the topiary upright.
Cut each ribbon piece into approximately four-inch strips. The more strips you have, the larger the topiary will look. Then start rolling the ribbons, so the ends meet. Secure these together with a pin and push it securely into the foam ball. Cover the entire ball with these ribbon rings. Make sure to stagger the ribbons and colors and alternate directions the ribbons are being placed to give it a fluffy look. Add a finishing touch with a bow on the dowel that has a spooky message.
And, don't forget your costume!
Use a rosette ribbon to state you have the best costume ever. Or, make festive hair bows with clips and personalized ribbons. From ghosts and witch hats to spiders and pumpkins, use your imagination and create something that is sure to wow this holiday!