From holidays to weddings, personalized ribbons are your best friend!
Custom ribbon rolls and greeting cards are the perfect pair when it comes to any event. They are great for a birthday party invitation or a thank you card. And, with just the right message, these ribbons will make any recipient feel how special you think they are.
So, whether you're throwing the party of a lifetime or need a way to express your feelings, let's figure out some ways to incorporated those custom ribbons into your greeting card needs.
Weddings and Formal Events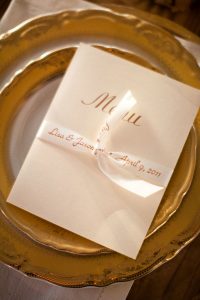 Most people look forward to hearing that their favorite couple is finally tying the knot. And, if you need a way to make those invitations a bit more inviting, add a bit of ribbon flair. Try tying a length of ribbon roll around the stack of the announcement, the RSVP card, your photo and anything else you want in your invitations. Don't forget to customize the ribbon with your wedding date, names and choose the perfect color to match your special evening.
Even if it isn't for a wedding, formal events are a great place to get some incredible use out of custom ribbons. Use that ribbon roll again for tying around menus. Or, use them for place holder cards at a formal family reunion. Everyone is sure to be happy to sit where you want them with such a fancy place card on their plate.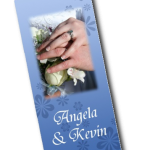 Another fun idea is to use custom top ribbons as your event invitation. Add fun and colorful graphics and images along with names, dates and other essential details. Slip these ribbons into envelopes and get them in the mail. People are more apt to appear at an event when they know you put some real thought and effort into the invitations.
Birthdays and Other Holidays
We've all seen those super cute birthday greeting cards with ribbons sticking out everywhere. Now, picture those with personalized ribbons! How cute is that? And, with our custom ribbon rolls, you can now make your own. Forget about spending all that money at the store. Buy some high-quality card stock and design any holiday card your heart desires.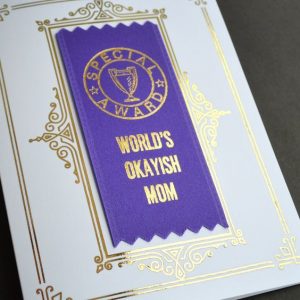 And, don't limit it to ribbon rolls. Custom badge ribbons are a fun accent to any card. Make an award ribbon for that special mother or father in your life. Then, attach it to the front (or inside) of your handmade greeting cards. You will get the best hug you have ever had by giving such a thoughtful gift.
Or, go all sorts of fancy with big, beautiful bows on Christmas and other holiday cards. Even if you don't want to design a card, find some inexpensive cards and add to them with strips of ribbon rolls or bows made from custom ribbons. Don't forget the most important part: personalization! Add a festive message to your color choice, and people are sure to know how much you care.
The Feeling of Greeting Cards
From congratulations to a simple missing you, expressing your feelings is what greeting cards are all about. So, learn how to say thank you, congratulations, good luck and so much more with your personalized ribbons.
Express gratitude, say you're sorry or give condolences with personalized ribbon cards. No matter your emotion, you can make a greeting card with personalized ribbons that says it all.