With the holidays quickly approaching, ribbons are becoming more and more important. So, let's start this season off with an explosion of black, white and orange!
Halloween is a fun and festive tradition in many homes and businesses. With costumes of fairies and cartoon characters everywhere, you might be in need of prizes for the best one. Or what if you're celebrating this holiday by throwing a party? Use these festive ribbons for decorating your home or party venue. And don't forget the treats! What would Halloween be without candy?
Ribbon rolls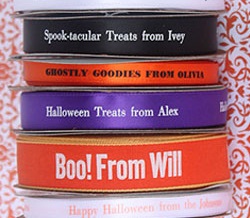 can be customized to meet all your holiday needs. From choosing the perfect color to forming the best phrase, all our ribbon rolls can be personalized. Create holiday wreaths or simply drape these ribbons along banisters, stairs or walls for your holiday decorations.
Use ribbon rolls to tie up goody bags. From cookies to candy, your treats are sure do to the trick especially when personalized with your own festive ribbon.
And, no Halloween party is complete without a few prizes.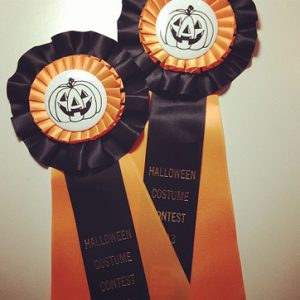 Use classic ribbons or rosette ribbons to create your own, one-of-a-kind awards! Use titles such as Best Costume, Most Creative or Scariest Costume. No matter your choice for awards, these personalized ribbons will be perfect for each and every winner.
While orange and black ribbons are the typical colors for Halloween, we have a giant color selection to choose from. Choices include: Torrid Orange, Poppy, Tangerine, Black, White, Maize, Red and Scarlet. Or, go with colors a little less traditional: Regal Purple, Pastel Green or Smoke Blue.
Hand out badge ribbons for party games, given as a bookmark to students, or given as a prize for a costume contest. Use them as recognition of that special costume or person during a meeting or at a school event. These also make great keepsakes for your guests to take home with them.
Dress up your Halloween party with Halloween designs on personalized ribbons and have a Happy Halloween!